Elizabeth Adams
Elizabeth Adams
(12/87 / Colorado)
Biography of Elizabeth Adams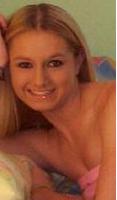 My name is Liz and I currently live in Michigan. I'm 18 years old and I just graduated from high school. I am attending college in the fall to earn my Bachelor of Applied Science (BAS) in Web Design. I wrote poetry a lot but I've been so busy lately to continue on. I will eventually.
Bad Judgement
I thought you loved me,
I thought you cared,
I thought I was your angel,
I thought you couldn't bare-
Living & breathing without me,
But now I know your word is fake.
After all the lies you put me through,
Now it's too late.