Elizabeth Sheaffer
Elizabeth Sheaffer
(February 4,1990 / Mt. Airy, NC)
Biography of Elizabeth Sheaffer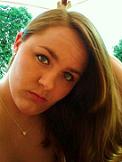 I write for myself. I'm a selfish writer... I write to express what I feel inside, what I hide away when the sun drives away the night's serene cover... I write the words I cannot express in daylight, the words I can never speak aloud... I write to make sense of myself and of the world around me. I write for release.
Anxious
The time of your arrival draws e'er nearer.
I look to the west in search of your face.
None others' words would I hold dearer,
Than thine own as my name escapes.

I look forward to your coming with hope.
I've missed you all the long while.
Lately it's been so hard to cope,
With the loss of that charming smile.