Elizabeth Sheaffer
Elizabeth Sheaffer
(February 4,1990 / Mt. Airy, NC)
Biography of Elizabeth Sheaffer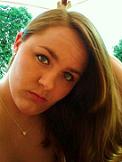 I write for myself. I'm a selfish writer... I write to express what I feel inside, what I hide away when the sun drives away the night's serene cover... I write the words I cannot express in daylight, the words I can never speak aloud... I write to make sense of myself and of the world around me. I write for release.
Crimson Carpets At Dusk
You're sitting on the couch, watching TV.
Wishing that you could be watching me.
Wanting me only to exist.
Needing nothing save one last kiss.
Why couldn't it have been someone else?
You cannot imagine how it must've felt.
Did I go to Heaven, or was it Hell?
You need to know which way I fell.
That way you can arrange for us to meet.