Elizabeth Sheaffer
Elizabeth Sheaffer
(February 4,1990 / Mt. Airy, NC)
Biography of Elizabeth Sheaffer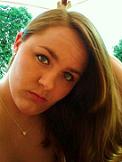 I write for myself. I'm a selfish writer... I write to express what I feel inside, what I hide away when the sun drives away the night's serene cover... I write the words I cannot express in daylight, the words I can never speak aloud... I write to make sense of myself and of the world around me. I write for release.
The Last Resort
Tears well up, threatening to o'erspill these blackened lashes.
Blackened; That's what society calls fashion.
Little girls playing in mother's make-up.
Wind, whispering through bright, green-leaved trees.
Running around barefoot, the wind in your face.
Falling back, your hair flowing behind you on freshly cut grass.
Looking up at the clouds; sunshine streaming on a beaming face.
Bliss, eternal and sweetly innocent.
Reminiscing years later...