Ellen Bass
Biography of Ellen Bass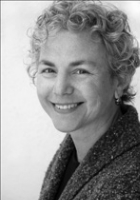 Ellen Bass (born 1947, Philadelphia, Pennsylvania) is an American poet and co-author of The Courage to Heal.
She grew up in Margate City, NJ, where her parents owned a liquor store. She attended Goucher College, where she graduated magna cum laude in 1968 with her bachelor's degree. She pursued a master's degree at Boston University, where she studied with Anne Sexton, and graduated in 1970. From 1970–1974, Bass worked as an administrator at Project Place, a social service center in Boston. She currently is teaching in the low residency MFA program at Pacific University in Oregon and has been teaching Writing About Our Lives workshops since 1974 in Santa Cruz, California.
Her poems have appeared in hundreds of journals and anthologies, including The Atlantic Monthly, Ms., The American Poetry Review, The Kenyon Review, Ploughshares, and Field. Much of her earlier writing is confessional poetry.
Her nonfiction books include I Never Told Anyone, Free Your Mind, and The Courage to Heal, which has sold over a million copies and has been translated into twelve languages.
She lives in Santa Cruz, California, where she has taught poetry and creative writing since 1974.
She was awarded the Elliston Book Award for Poetry from the University of Cincinnati, Nimrod/Hardman's Pablo Neruda Prize, The Missouri Review's Larry Levis Award, the Greensboro Poetry Prize, the New Letters Poetry Prize, the Chautauqua Poetry Prize, a Pushcart Prize, and a fellowship from the California Arts Council.
The Human Line (Copper Canyon Press, 2007) was named among the notable books of 2007 in the section poetry by the San Francisco Chronicle[6] and Mules of Love (BOA Editions, 2002) won the 2002 Lambda Literary Award in the category lesbian poetry.
This page is based on the copyrighted Wikipedia Ellen Bass; it is used under the Creative Commons Attribution-ShareAlike 3.0 Unported License. You may redistribute it, verbatim or modified, providing that you comply with the terms of the CC-BY-SA.
Relax
Bad things are going to happen.
Your tomatoes will grow a fungus
and your cat will get run over.
Someone will leave the bag with the ice cream
melting in the car and throw
your blue cashmere sweater in the drier.
Your husband will sleep
with a girl your daughter's age, her breasts spilling
out of her blouse. Or your wife