Ellen Hinsey
Biography of Ellen Hinsey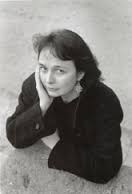 Ellen Hinsey (born 1960 in Boston) is an American writer.

Hinsey's work is concerned with history and ethics. Her first-hand accounts and analyses of the impact of the 2012 Russian presidential elections, the 2010 Polish presidential plane crash, Hungarian politics, Václav Havel's ethical legacy and post-1989 German reconstruction have been published in The New England Review. A selection of these essays will be included in her book Mastering the Past: Contemporary Central and Eastern Europe and the Rise of Illiberalism.
Ellen Hinsey Poems
Varieties Of Flight
There, in the air--traceless blue--arena of circuits And saunters, some rise with difficulty 'While others lift buoyant, tack of tail turned
Update on the Last Judgment
There will be no deafening noise. No hornblow of thunder. The small plants of the earth will not tremble on the hillside as grace is prepared. The sky will neither drown us in its plenty, nor the ground crack and consume feet in its hunger.
The Multitude
Standing at the edge is the great Multitude. They inch forward in their rags and hunger. Their movement along the ground lifts the sound of ancestral migrations.
All poems of Ellen Hinsey »
Share your comments »
The Multitude
Standing at the edge is the great Multitude.

They inch forward in their rags and hunger.
Their movement along the ground lifts
the sound of ancestral migrations.

They are carrying the dark water of need
in their eyes; they are carrying the first
vowels, the first consonants,