Elliott Arnold
Biography of Elliott Arnold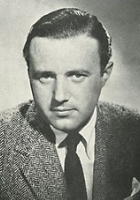 Elliott Arnold (September 13, 1912 – May 13, 1980) was an American newspaper feature writer, novelist, and screenwriter.
He was born in Brooklyn, New York and became a feature writer with the New York World-Telegram. Among his books, Elliott Arnold is probably best known for his novel Blood Brother that was adapted as the acclaimed 1950 motion picture Broken Arrow and a 1956 TV series of the same name. His 1949 biography of Sigmund Romberg was made into the 1954 musical film, Deep in My Heart.
Elliott Arnold died in New York City in 1980 at the age of sixty-seven.