Elsie Cole
Biography of Elsie Cole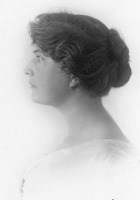 Elsie Clarice Cole was born in Melbourne from English parents. Her grandfather, mother and brother all composed poetry and both her brother and her grandfather achieved publication. Cole was educated at the South Melbourne College and her principal, the poet John Bernard O'Hara influenced her nature poetry. Cole's first publication was in The Bulletin when she was still at school, which The Bulletin published despite her not having put any address on her contribution.
This page is based on the copyrighted Wikipedia Elsie Cole; it is used under the Creative Commons Attribution-ShareAlike 3.0 Unported License. You may redistribute it, verbatim or modified, providing that you comply with the terms of the CC-BY-SA.
Song Of The Foot Track
COME away, come away from the straightness of the road;
I will lead you into delicate recesses
Where peals of ripples ring through the maidenhair's abode
In the heart of little water wildernesses.

I will show you pleasant places; tawny hills the sun has kissed,
Where the giant trees the wind is always swinging
Rise from clouds of pearly saplings tipped with rose and amethyst,—
Fairy boughs where fairy butterflies are clinging.