Emile Verhaeren
Biography of Emile Verhaeren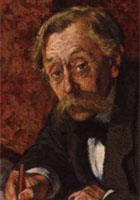 Emile Verhaeren was a Belgian poet, art critic and wrote short stories and verse plays.

Biography

He was born in a Flemish French-speaking, middle-class family in Sint-Amands. Nevertheless Emile Verhaeren also spoke the local dialect (Dutch was not taught at school at that time). At the age of eleven, he was sent to a strict boarding school in Ghent run by Jesuits - The Jesuit College of Sainte Barbe, where he became completely Frenchified. He then went to study law at the University of Leuven. Here he produced his first literary efforts in a student paper. During those years, he became acquainted with like-minded students. They later became his collaborators on the revolutionary artistic magazine "La Jeune Belgique".

He studied law at the University of Louvain and while there started a journal, La Semaine, which was suppressed by the authorities as well as the following work Le Type. He was admitted to the bar at Brussels in 1881 but soon began devoting his time to literature, writing in French. He was soon one of the leading figures of the Belgian literary renaissance.

Poetry

He was one of the most prolific poets of his era. His first collection of poems "Les Flamandes" was published in 1883. Inspired by the paintings of Jacob Jordaens, David Teniers and Jan Steen, Verhaeren described in a direct and often provocative, naturalistic way his country and the Flemish people. It was an immediate success in avant-garde milieus, but caused a great deal of controversy in Catholic circles. His next book "Les Moines" (1886) was not the success he had hoped for. This, and his health problems, led to a deep crisis. In this period he published Les Soirs (1888), Les Débâcles (1888) and Les Flambeaux noirs (1891).

On 24 August 1891 he married Marthe Massin, a talented artist from Liège. His new-found happiness found expression in three poetry books : Les Heures Claires (1896), Les Heures d'Après-midi (1905) and Les Heures du Soir (1911).

In 1898 he moved to Saint-Cloud, near Paris. By the turn of the century, he had become world-famous. His works were translated into more than twenty languages. His German translator was Stefan Zweig He travelled, giving lectures, throughout Europe. The outbreak of World War I had a devastating effect on the poet's deep pacifist feelings.

Death

When Emile Verhaeren died on 27 November 1916 at Rouen station (by falling under a train), it was Théo van Rysselberghe and his friend, the famous French writer (and later Nobel Prize winner) André Gide who informed Marthe Verhaeren of the death of her husband.

His vast body of work supports claims that he is one of the most prominent figures in Belgian literature. He narrowly missed the Nobel Prize for Literature in 1911 which was awarded to his friend, Maurice Maeterlinck.

St. Amands, his native city, has dedicated a museum to this giant of Belgian literature, showing many original manuscripts of his works and letters along with works of his artistic friends Théo van Rysselberghe, Leon Spilliaert, Constantin Meunier, Paul Signac and Ossip Zadkine.

Emile Verhaeren's Works:

Les Flamandes, 1883
Les moines, 1886
Les soirs, 1888
Les débâcles, 1888
Les flambeaux noirs, 1891
Les campagnes hallucinées, 1893
Les villes tentaculaires, 1895
Les heures claires, 1896
Les visages de la vie, 1899
Les forces tumultueuses, 1902
La multiple splendeur, 1906
Les rythmes souverains, 1910
Les ailes rouges de la guerre, 1916
Les flammes hautes, 1917 [written in 1914]
This page is based on the copyrighted Wikipedia Emile Verhaeren; it is used under the Creative Commons Attribution-ShareAlike 3.0 Unported License. You may redistribute it, verbatim or modified, providing that you comply with the terms of the CC-BY-SA.
Tenebrae
A moon, with vacant, chilling eye, stares
At the winter, enthroned vast and white upon the hard ground;
The night is an entire and translucent azure;
The wind, a blade of sudden presence, stabs.

Far away, on the skylines, the long pathways of frost,
Seen, in the distance, to pierce the expanses,
And stars of gold, suspended to the zenith,
Always higher, amid the ether, to rend the blue of the sky.