Emily Drexler
Emily Drexler
(July 9th,1996 / New York)
Biography of Emily Drexler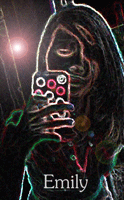 People to try to catgorize me as many many things: emo, cutter, goth, prep(don't ask) , cheerleader, whore etc...
but what they don't know is I'm just like any other person, i can't fit into one or any catagory. you can't label a person you can only sterotype a person. people talk about this thing called 'normal' what exactly is 'normal'? every person is unique, I tend to think of myself as a deep, imagnative, emotional writer. I'm a lover not a fighter, but i will fight for what I love. I'm a nice person until it comes time where I'm not suppose to be. Anyways, I'm here to write poems about my life and how I percive things, and if you don't like the way I write either tell me straight up or gtfo. But, if you do fantastic feel free to message me or leave me a comment. Or if you have a suggestion for what my next poem should be about hit me up, I'm always looking for new ideas! Love Always<3
Emily
Love Me
Tell me that I am the only one,
whisper gently in my ear.
Sing me me sweet lullibies,
That put me to sleep on dark stormy nights.
Hold me close and write I love you on my lips.
Wipe away my lonely tears,
Promise me you'll never leave becasue I need you here for me.
Promise that you'll care for me when I'm on my knees.
I know that I've done wrong, but hunny I've tried to change my life around just promise me that you'll be there whenever I fall down.