Emily Huntington Miller
Biography of Emily Huntington Miller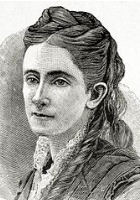 Emily Huntington Miller, (October 22, 1833 – November 2, 1913) Author, Poet, Educator. Born in Brooklyn, Connecticut, graduated from Oberlin College, Ohio in 1857. Daughter of Methodist pastor Thomas Huntington. Married John E. Miller in 1860. Children, George A. Miller. Grandmother to Emily Huntington Miller Witherow. Great Grandmother to Robert Huntington Witherow. She edited (assisted) The Little Corporal a children's magazine, Associate Editor of The Ladies Home Journal.
Author of "Kirkwood series", "Little Neighbors", Captain Fritz", "Fighting the enemy", and "Highway and Hedges".
Oh Realm of Light!
Oh realm of light! whose morning star
To Bethlehem's manger led the way,
Not yet upon our longing eyes
Shines the full splendor of thy day:
Yet still across the centuries fall,
Both strong and sweet, our Lord's command;
And still with steadfast faith we cry,
"Behold, the kingdom is at hand!"