ENOCH AANU OJOTISA
ENOCH AANU OJOTISA
[AKEWI]
Biography of ENOCH AANU OJOTISA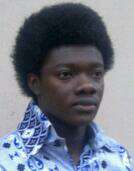 An African man.
Please visit www.enochojotisa.com to purchase my book titled, 'Commoner's Speech'. And also visit my blog, www.ojotisa.blogspot.com for my literary and political publications.

ENOCH AANU OJOTISA's Works:

COMMONER'S SPEECH is a collection of my poems published by KRAFT-BOOKS in Ibadan on 5th September, 2011. ITS SECOND EDITION WAS ALSO PUBLISHED BY AUTHOR-HOUSE PUBLICATIONS IN UK THIS YEAR FEBRUARY 2014.
From An African Child
Is this the African community my father told me he lived?
In here now, life looks empty,
our hope has come to look vague.
And the temple of our ancestors is famished of its sacrifice.
Now the gods have grown hungry,
and no one looks after the throne of our morality.
The African tradition to our children is opaque,
but the abomination is transparent in our minds.
Who will bring back the lost glory of the Egyptian sunrise?