ENOCH AANU OJOTISA
ENOCH AANU OJOTISA
[AKEWI]
Biography of ENOCH AANU OJOTISA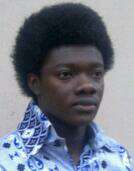 An African man.
Please visit www.enochojotisa.com to purchase my book titled, 'Commoner's Speech'. And also visit my blog, www.ojotisa.blogspot.com for my literary and political publications.

ENOCH AANU OJOTISA's Works:

COMMONER'S SPEECH is a collection of my poems published by KRAFT-BOOKS in Ibadan on 5th September, 2011. ITS SECOND EDITION WAS ALSO PUBLISHED BY AUTHOR-HOUSE PUBLICATIONS IN UK THIS YEAR FEBRUARY 2014.
Tale Of Our Road Map
In the edge of time must I address____
I am he who tells the tale of our roadmap.
From the excerpts of our agony's cup must I account our taste of time?
I am he who tells the tale of our roadmap.

_____A voyage it all began as of,
On a road of vagueness we headed towards;
Towards evolution; towards bartered mirror for territory;
Our ancestors were conned to slavery.