Eric Pankey
Biography of Eric Pankey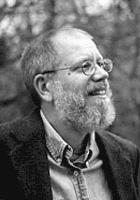 Eric Pankey (born 1959 in Kansas City, Missouri) is an American poet and artist. He is married to the poet Jennifer Atkinson (born 1955).
Pankey's poetry has moved from the literal and narrative as in _Heartwood,_ towards the suggestiveness of Emerson, without the hopefulness implicit in Emerson's transcendentalism. In Pankey's poems, often written in free verse forms or in prose poetry, the hint of grand comprehensiveness is suggested, without the hope of absorption into a universalizing or redemptive whole. The result, as in his "Souvenir de Voyage" (2015 in Verse)—an implied answer to Baudelaire's "Invitation au Voyage," is a glimpse of redemption from which the speaker of the poems, and thus the reader, is blocked, a promise unfulfilled and perhaps unfulfillable. Behind this urge lies a religious impulse that may remind a reader of T. S. Eliot. Yet the persistence of the seeking separates Pankey from Samuel Beckett; he remains on the closer side of despair.
Epitaph
Beyond the traceries of the auroras,
The fires of tattered sea foam,
The ghost-terrain of submerged icebergs;
Beyond a cinder dome's black sands,
Beyond peninsula and archipelago,
Archipelago and far-flung islands,
You have made of exile a homeland,
Voyager, and of that chosen depth, a repose.