Eric Torgersen
Biography of Eric Torgersen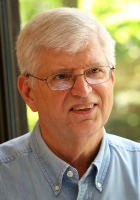 Eric Torgersen has published poetry, fiction, essays and a full-length study of Rainer Maria Rilke and Paula Modersohn-Becker. He also translates German poetry, especially that of Rainer Maria Rilke and Nicolas Born. He was born in Huntington, New York. He has a BA in German Literature from Cornell University; after two years in the Peace Corps in Ethiopia, he earned an MFA in poetry from the University of Iowa. He retired in the spring of 2008 after 38 years of teaching writing at Central Michigan University. He lives in Mt. Pleasant, Michigan with his wife, the quilt artist Ann Kowaleski. His next book of poems, Heart. Wood., will be published in 2012 by Word Press.

Eric Torgersen's Works:

The Man Who Loved Rilke, a novella from March Street Press, 2008
Inside Unity House: The John-Paul Story
Dear Friend: Rainer Maria and Paula Modersohn-Becker
Good True Stories, Lynx House Press, is the most recent full-length collection of poems
The Door to the Moon, March Street Press, is a chapbook of short poems
This page is based on the copyrighted Wikipedia Eric Torgersen; it is used under the Creative Commons Attribution-ShareAlike 3.0 Unported License. You may redistribute it, verbatim or modified, providing that you comply with the terms of the CC-BY-SA.
Yet
Hang him from a tree he hasn't hung from yet.
Fling him off a bridge no one's been flung from yet.

Send succor, in whatever dark disguise:
a hornet's nest he's not gone running, stung, from yet.

Early fall, and not one branch the wind
has not stripped every leaf that clung from yet.