Erica Borges
Biography of Erica Borges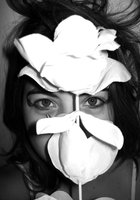 'A poet's work is to name the unnameable, to point at frauds, to take sides, start arguments, shape the world, and stop it going to sleep.' - Salman Rushdie (British Indian novelist and essayist)

Inspirations: Bill Hicks, Terence McKenna, John Lennon, Charlie Chaplin, Emily Dickinson, Jimi Hendrix, Bob Marley, Andy Kaufman, Thomas Paine, shiny grass, fungi.

Facebook Page: www.facebook.com/vb.erica

Erica Borges's Works:

Why pay someone to publish your book when we have internet?
Poetry Book - Spider Web
A Choice

Better to lack food
Than to lack truth.
Rather perish in body
Than in soul.
Better to walk naked
Than to walk empty.
Rather be silent