Erica Vieira
Biography of Erica Vieira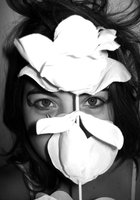 'A poet's work is to name the unnameable, to point at frauds, to take sides, start arguments, shape the world, and stop it going to sleep.' - Salman Rushdie (British Indian novelist and essayist)

Inspirations: Bill Hicks, Terence McKenna, John Lennon, Emily Dickinson, Jimi Hendrix, Thomas Paine, shiny grass, fungi.
Song
The bird can only sing
For ears to hear
For so long…
Then it goes back home…
It goes back home.
Where endless music
Fills the souls…
A free bird…
Where all birds are free.