Ernest Christopher Dowson
Biography of Ernest Christopher Dowson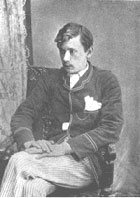 Ernest Christopher Dowson was an English poet, novelist and short-story writer, often associated with the Decadent movement.

Ernest Dowson was born in Lee, London, in 1867. His great-uncle was Alfred Domett, a poet and politician who became Premier of New Zealand and had allegedly been the subject of Robert Browning's poem "Waring". Dowson attended The Queen's College, Oxford, but left in March 1888 before obtaining a degree.

In November 1888, he started work with his father at Dowson and Son, a dry-docking business in Limehouse, east London, which had been established by the poet's grandfather. He led an active social life, carousing with medical students and law pupils, going to music halls and taking the performers to dinner. He was also working assiduously at his writing during this time. He was a member of the Rhymers' Club, which included W. B. Yeats and Lionel Johnson. He was a frequent contributor to the such literary magazines as The Yellow Book and The Savoy.
Dowson collaborated on two unsuccessful novels with Arthur Moore, worked on a novel of his own, Madame de Viole, and wrote reviews for The Critic. Dowson was a prolific translator of French fiction, including novels by Balzac and the Goncourt brothers, and Les Liaisons dangereuses by Choderlos de Laclos. In 1889, aged 23, Dowson fell in love with the eleven-year-old Adelaide "Missie" Foltinowicz, daughter of a Polish restaurant owner; she is reputed to have been the subject of one his best-known poems, Non Sum Qualis eram Bonae Sub Regno Cynarae. He pursued her without success, and, in 1897, Dowson was crushed when she married a tailor who lodged above her father's restaurant.

In August 1894 Dowson's father, who was in the advanced stages of tuberculosis, died of an overdose of chloral hydrate. His mother, who was also consumptive, hanged herself in February 1895, and soon Dowson began to decline rapidly. Robert Sherard found Dowson almost penniless in a wine bar and took him back to the cottage in Catford, where Sherard was living. Dowson spent the last six weeks of his life at Sherard's cottage and died there of alcoholism at age 32. He was interred in the Roman Catholic section of nearby Brockley and Ladywell Cemeteries. After Dowson's death, Oscar Wilde wrote: Poor wounded wonderful fellow that he was, a tragic reproduction of all tragic poetry, like a symbol, or a scene. I hope bay leaves will be laid on his tomb and rue and myrtle too for he knew what love was.

Ernest Christopher Dowson's Works:

Ernest Dowson, The Stories of Ernest Dowson, ed. by Mark Longaker (Philadelphia: University of Pennsylvania Press, 1947)
Ernest Dowson, The Poems of Ernest Dowson, ed. by Mark Longaker (Philadelphia: University of Pennsylvania Press, 1962)
Ernest Dowson, The Letters of Ernest Dowson, ed. by Desmond Flower and Henry Maas (London: Cassell, 1967)
Ernest Dowson, The Poetry of Ernest Dowson, ed. by Desmond Flower (Cranbury, NJ: Fairleigh Dickinson University Press, 1970)
This page is based on the copyrighted Wikipedia Ernest Christopher Dowson; it is used under the Creative Commons Attribution-ShareAlike 3.0 Unported License. You may redistribute it, verbatim or modified, providing that you comply with the terms of the CC-BY-SA.
Epigram
Because I am idolotrous and have besought
With grievous supplication and consuming prayer,
The admirable image that my love has wrought
Out of her swan's neck and her dark, abundant hair:
The jealous gods who brook no worship save their own,
Turned my live idol marble and her heart to stone.