Ernest Hilbert
Ernest Hilbert
(April 4th,1970 / Philadelphia)
Biography of Ernest Hilbert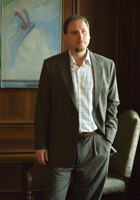 Ernest Hilbert's poetry has appeared in The New Republic, American Poet, Boston Review, Poetry Daily, LIT, Pleiades, McSweeney's, The American Scholar, Verse, The New Formalist, Volt, and Fence. He is the editor of the Contemporary Poetry Review. He has written reviews and essays for a variety of publications, including The New York Sun, Scribner's American Writers series, and the Academy of American Poets. Hilbert received his doctorate in English Literature from Oxford University, where he earlier completed a Master's Degree and edited the Oxford Quarterly. He was the poetry editor of Random House's online magazine Bold Type for many years and later edited the magazine nowCulture. As a librettist, he is a frequent collaborator with the composer Daniel Felsenfeld. He is an agent and auction buyer for Bauman Rare Books, the largest antiquarian and first edition dealer in North America.
The Sin Originates Them
"One morning I found that if I held ear
To speaker, I could detect gulls screeching
Distantly behind Debussy's Lent,
Mélancolique et doux." This hour, with sun's
Frozen architecture off Manhattan,
Ice of moments pursuing light beyond
Origin of day and those cries—woke holding her
Hand as she dreamed alone under a sky.