Ernst Toller
Ernst Toller
(1 December 1893 – 22 May 1939 / Samotschin / Poland)
Biography of Ernst Toller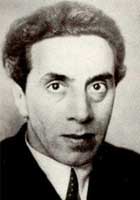 Ernst Toller was a left-wing German playwright, best known for his Expressionist plays and serving as President of the short-lived Bavarian Soviet Republic, for six days.

Biography

Ernst Toller was born in Samotschin, Poland, on 1st December 1893. His father was a successful Jewish wholesale merchant. He was schooled in Bromberg where depsite describing it as a "school of miseducation and militarization", he was able to begin his literary career with the publication of a number of articles in the local newspaper and then poetry.

In 1914 Toller moved to France in order to study law at the University of Grenoble. However, within six months the onset of the First World War meant he had returned home and signed up for the German army. Within a year he was fighting on the front lines, but by 1916 he was taken ill, suffering from "physical exhaustion and a complete nervous breakdown". In January 1917, now lacking his initial enthusiasm for the war and instead shocked by the high level of carnage, he was discharged from the army.

Following this, Toller moved to Munich to return to his studies at Heidelberg University. Here he became friends with sociologist Max Weber. In May 1917 the pair took part in the first "Lauensteiner conference", where they cordially disagreed about the course of the war. Whilst Weber argued for the continuation of the war, Toller favoured a negotiated peace.

Following his discharge from the army, Toller also returned to writing poetry. His works took on an overtly political tone and he became increasingly regarded as a dangerous political revolutionary. Now a socialist and a pacifist he formed the Cultural and Political League of German Youth and demanded an end to the war. Expelled from University on poltical grounds, Toller moved to Munich where he helped organise a strike amongst munitions workers and later supported the German revolution of 1918 when sailors at Kiel refused to obey orders and engage in battle with the British Navy.

In 1919 Toller was sentenced to five years in prison for his support of Kurt Eisner's declaration of a Bavarian Socialist Republic. While imprisoned, he completed work on Transformation, which premiered in Berlin under the direction of Karlheinz Martin in September 1919. At the time of Transformation's hundredth performance, the Bavarian government offered Toller a pardon, which the writer refused out of solidarity with other political prisoners. Toller would go on to write some of his most celebrated works in prison, including the dramas Masses Man (Masse Mensch), The Machine Breakers (Die Maschinenstürmer), Hinkemann, the German (Der deutsche Hinkemann), and many poems.

On his release from prison in 1924 Toller continued to publish further works, including Once a Bourgeois Always a Bourgeois (1927) and became a prominent figure within the League for Human Rights and the Group of Revolutionary Pacifists.

Unfortunately, with the ascent to power of the Nazis in the 1930s, Toller's background meant that he was made to feel increasingly alienated and he was icluded on a list of banned author's published by Goebbels. When Toller also saw that communists and socialists were being persecuted in the concentration camps, he was persuaded to leave Germany. He first sought exile in Britain and later in the United States, where he had a short lived career and screen play writer.

He went on a lecture tour of the United States and Canada in 1936 and 1937, before settling in California, where he worked on screenplays which remained unproduced. Toller moved to New York City in 1936, where he lived with a group of artists and writers in exile, including Klaus Mann, Erika Mann and Therese Giehse.

On 22nd May 1939, depressed by the rise of Fascism in Europe and aware that his brother and sister had both been sent to concentration camps, Toller committed suicide in his hotel room.

Ernst Toller's Works:

Transfiguration (Die Wandlung) (1919)
Masses Man (Masse Mensch) (1921)
The Machine Wreckers (Die Maschinenstürmer) (1922)
Hinkemann (org. Der deutsche Hinkemann), Uraufführung (19 September 1923)
Hoppla, We're Alive! (Hoppla, wir leben!) (1927)
Feuer aus den Kesseln (1930)
Eine Jugend in Deutschland (1933), autobiography, Amsterdam
Briefe aus dem Gefängnis (1935), Amsterdam
I was a German (1934), autobiography, New York
Mary Baker Eddy (1930), play in five acts, with Hermann Kesten
This page is based on the copyrighted Wikipedia Ernst Toller; it is used under the Creative Commons Attribution-ShareAlike 3.0 Unported License. You may redistribute it, verbatim or modified, providing that you comply with the terms of the CC-BY-SA.
November
Cities are so far away, humans live there.
The knot chokes at your throat, a gray
horror caresses your limbs. Who will freedom behold?
When, at last, will the grubs rise up?