Ethel Turner
Ethel Turner
(24 January 1872 – 8 April 1958 / Doncaster / England)
Biography of Ethel Turner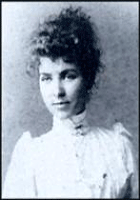 Ethel Turner was an Australian novelist and children's writer.

Biography

Ethel Turner was born in Doncaster, Yorkshire, England on 24th January, 1872. She migrated to Australia with her widowed mother, older sister Lilian and step sister, Jeannie in 1880.

Educated at Sydney Girls' High School, she and Lilian wrote stories and edited magazines - first the Iris and then the Parthenon. The Parthenon came out monthly and sold for sixpence a copy, generally selling about 1500 copies per month. Both sisters used pseudonyms to give the impression that the various sections of the magazine were written by a number of contributors, whilst in reality the two sisters did all the writing themselves. Being the younger sister, Ethel was left to do the children's page.

Ethel went on to write The Children's Page in the Illustrated Sydney News, which was later taken over by Town and Country Journal. She also contributed to the Bulletin and the English Windsor Magazine.

At the age of 22, Ethel Turner had Seven Little Australians accepted and published by Ward Lock. Interviewed by Life magazine ten years later she related 'How I wrote Seven Little Australians'. The sequel Family at Misrule was published in 1895; the next in the series Little Mother Meg in 1902 and Judy and Punch, the story of Judy's time away at boarding school, much later , in 1928.

Ethel Turners Publishers

Ward, Lock was Ethel Turner's main publisher. William Steele, Ward, Lock's Melbourne manager, wanted Seven Little Australians placed in the Lily Gift Book Series but Ethel Turner disliked both the appearance of the series and the idea of being part of an English series. Seven Little Australians instead appeared first in green or red covers with a gilt picture of Judy running across the cover. The covers were different for later editions, but Ward, Lock proceeded to use the same format for the covers of other Australian authors - Mary Grant Bruce, Lilian Turner and Lillian Pyke - thus creating an Australian series. This was also unacceptable to Ethel Turner. She offered four of her books to Hodder and Stoughton who published them in an illustrated edition, with four colour plates in each and a coloured overlay on the cloth covers. Fair Ines (1910), The Apple of Happiness (1911), The Secret of the Sea (1913) and Flower O' the Pine (1914) appear in the exhibition.

Adult Books

Ethel Turner did not want to be solely a writer of children's books, but her books written for adults were generally less successful. The first, The Story of a Baby (1895) was written soon after Seven Little Australians. The Ungardeners (1925) is another adult title. Ports and Happy Havens (1912) is a travel book. 'Child of the Children', displayed in the exhibition in both its original form as a story from Windsor Magazine and as an individual publication, appears to be the forerunner of George Bernard Shaw's Pygmalion.

War Books

Ethel Turner was wholeheartedly committed to Australia's participation in World War 1. Her war trilogy The Cub (1915), Captain Cub (1917) and Brigid and the Cub (1919) follow the adventures of John Calthrop and advance Ethel Turner's strong support of England and Empire, conscription and the need for Australian women to support the war effort. She emphasized the classlessness of Australian soldiers and looked forward to a more socially equitable Australia once the war was over.

Stories and Poems

Ethel Turner also wrote poems and short stories. Gum Leaves (1900), Happy Hearts: a Picture Book for Boys and Girls (1908) and The Sunshine Family: a Book of Nonsense for Girls and Boys (1923), co authored by her daughter Jean Curlewis are examples of these.

Ethel Turner died in 1958.

Ethel Turner's Works:

Seven Little Australians (1894)
Family at Misrule (1895)
Story of a Baby (1895)
Little Larrikin (1896)
Miss Bobbie (1897)
Camp at Wandining (1898)
Gum Leaves (1900)
Three Little Maids (1900)
Wonder Child (1901)
Little Mother Meg (1902)
Betty & Co (1903)
Mothers Little Girl (1904)
White Roofed Tree (1905)
In the Mist of the Mountains (1906)
Walking to School (1907)
Stolen Voyage (1907)
Happy Hearts (1908)
That Girl (1908)
Birthday Book (1909)
Fugitives from Fortune (1909)
Fair Innes (1910)
Raft in the Bush (1910)



An Orge up to Date (1911)
Apple of Happiness (1911)
Fifteen & Fair (1911)
Ports & Happy Havens (1911)
Tiny House (1911)
Secret of the Sea (1913)
Flower O' the Pine (1914)
The Cub (1915)
John of Daunt (1916)
Captain Cub (1917)
St Tom & The Dragon (1918)
Brigid & the Cub (1919)
Laughing Water (1920)
King Anne (1921)
Jennifer J (1922)
Sunshine Family (1923) (with Jean Curlewis her daughter)
Nicola Silver (1924)
Ungardeners (1925)
Funny (1926)
Judy & Punch (1928)
This page is based on the copyrighted Wikipedia Ethel Turner; it is used under the Creative Commons Attribution-ShareAlike 3.0 Unported License. You may redistribute it, verbatim or modified, providing that you comply with the terms of the CC-BY-SA.
A Boat On The Sea
A BOAT on the sea, my boat,
Eager and frail!
Sweet skies, smile as you look
On that fairy sail.

Waves, great waves, many years
You have worked your will.
Just while she passes through,
Kind waves, be still.