Eustace Dunn
Eustace Dunn
[Eustace Dunn]
Biography of Eustace Dunn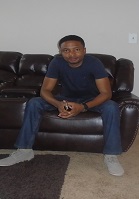 A Nigeria based journalist with first and second degree in mass communication and many other professional certifications in Public Relations, Mobile Content Operations, Marketing and Advertising and Digital Publishing. An award winning content administrator in Digital Publishing Innovation Summit in New York. Adobe Tools certified in London.

He started his primary school in Auchi, Edo State of Nigeria but later rounded off in Ashaka, Delta, a place where he also attended his secondary school in the famous Mater Dei Model secondary school. Eustace started the media career with TELL Communications, Lagos and later joined Naij.com as Associate Senior Editor.
My Naija! My Pride!
With tearful looks in my eyes,
I still see the world's spies.
Their mockery spat on my name
Like a sane man that was lame.
But I am not ashamed!

I am not ashamed
For I shall shout aloud among the crowd
Don't ever think I'll not to my nation be so proud.