Eve Merriam
Eve Merriam
(19 July 1916 – 11 April 1992 / Philadelphia, Pennsylvania)
Biography of Eve Merriam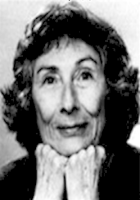 Eve Merriam was an American poet and writer.

Born as Eva Moskovitz in Philadelphia, Pennsylvania, she was married for a time to writer Leonard C. Lewin. She later married screenwriter Waldo Salt and was actress Jennifer Salt's stepmother.

Merriam died on April 11, 1992 in Manhattan from cancer.

Writing Career

Merriam's first book was the 1946 Family Circle, which won the Yale Younger Poets Prize.

Her book, The Inner City Mother Goose, was described as one of the most banned books of the time. It inspired a 1971 Broadway musical called Inner City and a 1982 musical production called Street Dreams. In 1981 she won the NCTE Award for Excellence in Poetry for Children. She published a total of 88 books.
This page is based on the copyrighted Wikipedia Eve Merriam; it is used under the Creative Commons Attribution-ShareAlike 3.0 Unported License. You may redistribute it, verbatim or modified, providing that you comply with the terms of the CC-BY-SA.
Lullaby
Purple,
Purple,
Twilight
Sky light.

Purple as a king's cape
Purple as a grape.

Purple for the evening
When daylight is leaving.

Soft and purry,
Gentle and furry,
Velvet evening-time.

Purple,
Purple.
Sky light
Goodbye light.

Dusky
Musky
Into night.