Fabio Caparelli
Fabio Caparelli
(1990-2005 / San Salvador de Jujuy, Argentina)
Biography of Fabio Caparelli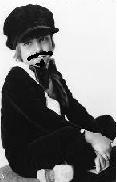 Born in Argentina to an English mother and an Argentinian father in a green bungalow, Fabio learnt at a very early age that he would never be able to walk.

Using his pen, he drew himself some legs. He drew himself a smile and then he drew his mother a life that was not impoverished and restricted by an abusive marriage to a man with a handlebar moustache. Of course, these drawings were not real but with them, Fabio found an escape.

As he became older, he began to speak Quechua, Letzeburgesch and English. English was his favourite and with it he began to use his pen of escape some more.

Fabio Caparelli's Works:

None as of yet.
Quite Hard To Tell
Nas said Hip-hop is dead,
But it will always live on inside of my head.
I'll lie in bed spittin' lines like 'I'm versatile, my style switches like a faggot',
If it was truly dead... then it'd be food for a maggot.
So who's feeding on its carcass?