Fadhy Mtanga
Fadhy Mtanga
(14-11 / Dar es Salaam, Tanzania)
Biography of Fadhy Mtanga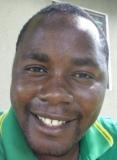 A son of a school teacher.
My mother was my language teacher in Standard Three, she influenced me to learn writing poems. By that time, I wouldn't understand it's impact into my life.
Today, I'm very much proud of her, because, poetry is a part of my daily life.
I write poems in English and Kiswahili, the language of East Africa. I write poems about love and sometimes politics and society.
I'M Happy
As I wake up every morning,
As I spend my time every day,
As I go to bed every night,
All I think about,
Is you.

When love crosses the spaces,
Between you and me,
There's only one thing to share,
That's happiness.

Oh yes, because I'm happy,
I'm happy with you.