Fadhy Mtanga
Fadhy Mtanga
(14-11 / Dar es Salaam, Tanzania)
Biography of Fadhy Mtanga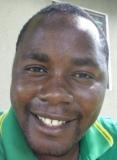 A son of a school teacher.
My mother was my language teacher in Standard Three, she influenced me to learn writing poems. By that time, I wouldn't understand it's impact into my life.
Today, I'm very much proud of her, because, poetry is a part of my daily life.
I write poems in English and Kiswahili, the language of East Africa. I write poems about love and sometimes politics and society.
Wangu Rafiki
Nuru ya jua uamkapo,
Tumaini zaidi liwepo,
Na huzuni ikuondokapo,
Pindi moyo ufarijikapo,
Farijika nami.

Usilemewe sana kichwani,
Moyo siutose majonzini,
Walishasema hapo zamani,