Fahmida Riaz
Biography of Fahmida Riaz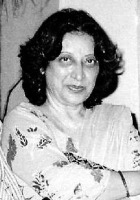 Fahmida Riaz (Urdu: فہمیدہ ریاض) is a well known Urdu writer, poet, and feminist of Pakistan. Along with Zehra Nigah, Parveen Shakir, Kishwar Naheed , Riaz is amongst the most prominent female Urdu poets in Pakistan. She is author of Godaavari, Khatt-e Marmuz, and Khana e Aab O Gil, the first translation of the Masnavi of Maulana Jalaluddin Rumi from Farsi into Urdu she has also translated the works of Shah Abdul Latif Bhitai and Shaikh Ayaz from Sindhi to Urdu.

Early Life

Fahmida Riaz was born on July 28, 1946 in a literary family of Meerut, UP, India. Her father, Riaz-ud-Din Ahmed, was an educationist, who had a great influence in mapping and establishing modern education system for Sindh. Her family settled in Hyderabad following her father's transfer to Sindh. Fahmida learnt Urdu, and Sindhi language literature in childhood and later Persian.

Her early life was marked by the loss of her father when she was just 4 years old. She was already making poetry at this young age. Her mother (Husna Begum) supported the family unit through entrepreneurial efforts until Fahmida entered college, when she started work as a newscaster for Radio Pakistan. Fahmida's first poetry collection was written at this time.

Family and Work

She was persuaded by family to enter into an arranged marriage after graduation from college, and spent a few years in the UK with her first husband before returning to Pakistan after a divorce. During this time she worked with the BBC Urdu service (Radio) and got a degree in film making. She has one daughter from her first marriage.

She worked in an advertising agency in Karachi before starting her own Urdu publication "Awaz". She met and married Zafar Ali Ujan, a leftist political worker and had two children with him. The liberal and politically charged content of Awaz drew the attention of the Zia regime and both Fahmida and Zafar were charged with multiple cases, the magazine shut down and Zafar thrown in jail. Fahmida was bailed by a fan of her works before she could be taken to jail and fled to India with her two small children and her sister on the excuse of a Mushaira invitation. She has relatives in India. Her husband later joined her there after his release from jail. The family spent almost seven years in exile before returning to Pakistan on the eve of Benazir Bhutto's wedding reception. During this time Fahmida had been poet in residence for a university in Dehli.

She was appointed MD of the National Book Foundation during Benazir Bhutto's first tenure and later persecuted by the first Nawaz Sharif govt., labelled an Indian agent and made virtually unemployable because of threats from the govt.. She worked three simultaneous jobs to support the needs of her growing children at this time. In the second tenure of Benazir's govt. she was given a post at the Quaed e Azam Academy. When Benazir's govt. toppled a second time, Fahmida was again persona non grata for Islamabad.

Fahmida lost her son Kabeer in October 2007. He drowned while swimming with friends on a picnic. This was soon after Fahmida had translated fifty of Rumi's poems from Persian into Urdu, dedicated to Shams Tabriz. She was MD Urdu Dictionary Board from 2000-2011.

As an Activist

Fahmida remained part of social and political activities since her academic life. She got involved in students politics when she was student of M.A. in Sindh University. She spoke and wrote against the University Ordinance and the ban on the students' union during the Ayub Khan regime. She spent many years in exile in India in the 1980s during the dictatorship of General Zia ul Haq, living in Delhi and taught at Jamia Millia Islamia. She enjoyed the patronage of Indian Government. Her husband, an activist of Sindhi nationalism had also accompanied her to India. They returned to Pakistan though, quite disillusioned. Fahmida also expressed the reasons for her disillusionment with the rise of Hindu nationalism in India in the following poem:
Naya Bharat (New India)

Awards

Hemmet Hellman Award for Resistance Literature from Human Rights Watch
Al Muftah Award for Literature: Poetry
Sheikh Ayaz Award for Literature: Poetry from Sindh Government
Presidential Pride of Performance Award for Literature: Poetry
Sitara -e- Imtiaz on March 23, 2010 by the President of Pakistan

Literary Work

Her first poem was published in Funoon of Ahmed Nadeem Qasmi, when she was merely 15. Her first collection of poetry appeared just after two months of marriage at the age of 22. Other works are ...
"Tum bilkul hum jaisey nikley
Aab tak Kahan chupay thay bhai
Voh moorkhta, voh ghaamarpan jis mai hum nay sadian gawaeen
Aakhir pahunchi dua tumhaari
Aray badhai bahut badhai

You turned out to be just like us;
Similarly stupid, wallowing in the past,
You've reached the same doorstep at last.
Congratulations, many congratulations.

Preyt dharm ka naach rahaa hai
Qaim Hindu raj karo gay
Saarey ultey kaj karogay apna chaman taraj karogay
Tum bhee baithey karogey sochaa
Kaun hai Hindu, kaun naheen hai
Tum Bhi Karo gay Fatway Jari

Ek jaap saa kartey jao
Barham Bar Yehi Dorhao
Kitna veer mahaan tha
Bharat Kaisa Alishaan tha Bharat"

Your demon [of] religion dances like a clown,
Whatever you do will be upside down.
You too will sit deep in thought and ponder,
Who is Hindu, who is not.
You too will issue
Fatwas Keep repeating the mantra like a parrot,
India was like the land of the brave"
(translated by Khushwant Singh)

Her work is remarkable for its emotionally charged references to social and political injustice. She has been a prominent voice in the feminist struggle in Pakistan, where her poems both directly and insidiously erode at the foundations of male dominance. She has also published several gender equal stories, feminist translations, and some deconstruction of the criticism of feminist work.

Fahmida Riaz's Works:

Pathar ki Zaban
Khatt-e Marmuz
Godavari
Kya tum poora chand na dekho ge
Karachi
Gulabi kabotar
Badan darida
Dhoop
Aadmi ki zindagi
Khule dareeche se
Halqa meri zanjeer ka
Adhoora aadmi
Pakistan, literature and society
Qafle parindon ke
Ye Khana e Aab O Gil
This page is based on the copyrighted Wikipedia Fahmida Riaz; it is used under the Creative Commons Attribution-ShareAlike 3.0 Unported License. You may redistribute it, verbatim or modified, providing that you comply with the terms of the CC-BY-SA.
Deep Kiss
Deep myrrh-scented kiss,
deep with the tongue, suffused
with the musky perfume
of the wine of love: I'm reeling
with intoxication, languid
to the point of numbness,
yet with a mind so roused
an eye flies open
in every cell.