Fakir Mohan Senapati
Biography of Fakir Mohan Senapati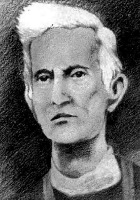 Fakir Mohan Senapati (Oriya: ଫକିର ମୋହନ ସେନାପତି), born at Mallikashpur in Balasore, played a leading role in establishing the distinct identity of Oriya, a language mainly spoken in the Indian state of Orissa. Fakirmohan Senapati is regarded as the father of Oriya nationalism and modern Oriya literature. Born to Laxman Charan Senapati and Tulsi Devi Senapatie, Fakirmohan dedicated his life to the progress of Oriya language in the later 19th and early 20th century. The story of Fakirmohan is indeed the story of the 'Renaissance' of Oriya literature. Besides he was a social reformer and educator who used his pen to criticize and correct the aberrations prevalent in the society. He is called the father of Oriya fiction.

His Work

Novels

He is aptly called the Thomas Hardy of Orissa. Though he translated from Sanskrit, wrote poetry, and attempted many forms of literature, he is now known primarily as the father of modern Oriya prose fiction. The four novels of Fakirmohan, written between 1897 and 1915, reflect the socio-cultural conditions of Orissa during the eighteenth and the nineteenth centuries. While the three novels, 'Chhamana Atha Guntha', 'Mamu' and 'Prayaschita' explore the realities of social life in its multiple dimensions. 'Lachhama' is a historical romance dealing with the anarchical conditions of Orissa in the wake of Maratha invasions during the eighteenth century. Chha Maana Atha Guntha is the first Indian novel to deal with the exploitations of landless peasants by the feudal Lord. It was written much before the October revolution of Russia or much before the emerging of Marxist ideas in India. Fakir Mohan is also the writer of the first autobiography in Oriya, "Atma Jeevan Charita".

Short Stories

His "Rebati" (1898) is widely recognized as the first Oriya short story. "Rebati" is the story of a young innocent girl whose desire for education is placed in the context of a conservative society in a backward Orissa village, which is hit by the killer epidemic cholera. His other stories are "Patent Medicine", "Daka Munshi","Adharma Bitta", "Randi Pua Ananta"etc. "Randipua Ananta" also a nice creation of him.

Poem

He wrote a long poem, Utkala Bhramanam, that first appeared in 1892. Literally meaning Tour of Orissa, this poem, in reality, is not a travelogue but a commentary on the state of affairs in the Orissa of that time, written in a satirical manner.

Family Members

Vyasa Kabi Fakir Mohan Senapati played a major role towards the formation of Orissa and the acknowledgement of Oriya language during the British period. Vyasa Kabi Fakir Mohan Senapati married Leelavati Devi in the year 1856 when he was only thirteen. She died when he was twenty-nine. In summer 1871, he again married to Krushna Kumari Dei about whom he says, It seemed as if God had sent me Krushna Kumari to relieve me of all my miseries and bring me happiness and prosperity. Krushna Kumari died in 1894 leaving behind a son and a daughter.

Vyasa Kabi Fakir Mohan Senapati had one daughter from his first wife Leelavati Devi who had married to Raghunath Chaudhari, the elder brother of Gagan Bihar Chaudhari. From his second wife Krushna Kumari Dei; Fakir Mohan had his only son Mohini Mohan Senapati and daughter Sarojini Senapati. Sarojini Senapati married to Gagan Bihari Chaudhari who was the then Dist Judge at Cuttack. Gagan Behari Chaudhari had three sons and one daughter they are Bipin Bihari Chaudhary, Saila Bihari Chaudhary, Snehamayee Devi. Sneha Mayee Devi who married to Surya Mani Jena a graduate from Calcutta University who was the Inspector of Schools. Even the Senior Advocate and former Law Minister late Mr. Ashok Sen and his elder brother were the students of Surya Mani Jena at Sambalpur High School. Surya Mani had three sons and one daughter namely Pratap Chandra Varma, Ajay Chandra and Sanjaya Chandra Varma. Prasanta Varma, Advocate Supreme Court of India is the son of late Mr. Pratap Chandra Varma and is one of the Great Great Grand Son of Fakir Mohan Senapati. Fakir Mohan's great-grand-daughter Monica Das is a writer and economist based out of New Delhi, India.
This page is based on the copyrighted Wikipedia Fakir Mohan Senapati; it is used under the Creative Commons Attribution-ShareAlike 3.0 Unported License. You may redistribute it, verbatim or modified, providing that you comply with the terms of the CC-BY-SA.