Fang
Fang
(2034 AD / New Orleans)
Biography of Fang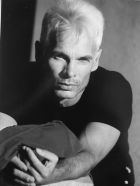 I never cared till I read you Homer. And Socrates, my friend, I shall meet you soon! Save me next to you a seat. Ajax, my pity. Like you there is no place in this world for me. I hope I go out on my shield before madness sets in.

You, cool reader. Are going to read things never before written. Yes, I am a prophet. Yes like Cassandra - no one listens. But the window over my head tells me what's said.


In my tomb or my brain pan, I will wish for that cool breeze blowing in just now. I will wish so hard. But I won't be. Isn't that what wishes are for?
I'M A Black Face
I'm a black face bloody hound hate hating
Never through with destruction.
I shiver on fire - then moonlight.
They call me Poet of Doom
Prophet o' Disintegration
Cause I read handwriting on the walls.
My waxy storm, life-blunting blood-rite
Is millions of years old.
We trod up the stairs