Fanny Howe
Biography of Fanny Howe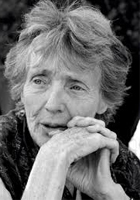 Fanny Howe (born October 15, 1940 in Buffalo, New York) is an American poet, novelist, and short story writer. She has written many novels in prose collection. Howe was awarded the 2009 Ruth Lilly Poetry Prize,presented annually by the Poetry Foundation to a living U.S. poet whose lifetime accomplishments warrant extraordinary recognition. She was a judge for the 2015 Griffin Poetry Prize.
Her father was a lawyer, and her Irish-born mother was an actress at the Abbey Theatre of Dublin for some time. Her sister is Susan Howe, who also became a poet. Fanny Howe grew up with her family in Cambridge, Massachusetts. She attended Stanford University for three years, and in 1961—the year she left Stanford—she married Frederick Delafield, whom she divorced two years later.
As a Civil Rights activist, she met and married the activist Carl Senna in the 1970s, who is of African-Mexican descent and is also a poet and writer. They are the parents of the novelist Danzy Senna, who writes about growing up biracial in the 1970s and 80s in her novel Caucasia. Howe and Senna also had two other children, Lucien Quincy Senna, and Maceo Senna.
She has taught at Tufts University, Emerson College, Kenyon College, Columbia University, Yale University, Massachusetts Institute of Technology and Georgetown University . She is professor emerita of Writing and Literature at the University of California, San Diego. Currently she lives in Boston.
One Night in Balthazar
The hotel bar downstairs
was dirty and dark and almost empty
except for him whom I didn't know

I lost my balance
because evil is aroused by absence


Outside on the island