Farrukh Ahmad
Farrukh Ahmad
(10 June 1918 - 19 October 1974 / Magura / Bangladesh)
Biography of Farrukh Ahmad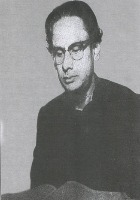 Farrukh Ahmad (Bengali-ফররুখ আহমেদ) was a poet and writer of Bangladesh. He was one of the most popular Muslim poets of Modern era.

Birth

He was born in the village of Sreepur Upazilla of Magura District. He was the second son of Syed Hatem Ali and Begum Rawshan.

Education

He graduated from Khulna Zila School in 1937 and did his I.A. from Ripon College, Kolkata in 1939. Then enrolled at the prestigious Scottish Church College to study BA (Hons) in Philosophy and English Literature, but was unable to his complete studies.

Later Life

As a student, Farrukh Ahmed had been attracted to the radical humanism of Manabendra Nath Roy and had participated in leftist politics. From the forties, however, he supported the Pakistan movement. Despite his Pakistani and Islamic ideals, he supported the Language Movement in 1952 and, later, the liberation war of Bangladesh.

Literary Works

His poems reflect the Arabic and Persian legacy in Bengal and are replete with Arabic and Persian words. He also wrote satirical poems and sonnets.

Awards

Bangla Academy Award (1960)
President's Award for Pride of Performance (1961)
Adamjee Prize (1966)
UNESCO Prize (1966)
Ekushey Padak (posthumously, 1977)
Swadhinata Puraskar (posthumously, 1980)

Farrukh Ahmad's Works:

Majhi (1944)
Sirazam Munira (1952)
Naufel O Hatem (1961)
Muhurter Kavita (1963)
Hatemtayi (1966)
Habida Marur Kahini (1981)

Books For Children

Pakhir Basa (1965)
Harafer Chhada (1970)
Chhadar Asar (1970)
This page is based on the copyrighted Wikipedia Farrukh Ahmad; it is used under the Creative Commons Attribution-ShareAlike 3.0 Unported License. You may redistribute it, verbatim or modified, providing that you comply with the terms of the CC-BY-SA.
I Shall Wake You Up
Every time I come to your door to wake you up
I go back disheartened (O my Princess, you lie
Unconscious in deep intoxicating slumber;
No sign of life; no flare of consciousness).

What a sleep you enjoy in touch of silver wand!
What enchanter lulled you to this slumber and when?
None can unbind this intricate snare of sleep;
So the prince continues his hapless journey onward.