Fatmir Terziu
Fatmir Terziu
(25/07/1964 / Elbasan, Albania)
Biography of Fatmir Terziu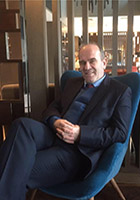 Dr Fatmir Terziu

Fatmir Terziu, born 24 July 1964 in Elbasan, Albania, is an British-Albanian writer, filmmaker and journalist. After completing his studies, he worked as a teacher and head teacher in many schools in his home city of Elbasan. In the UK he continued his studies for HNC Media Production at South Thames College, for Communication at London South Bank University and later for DFVP at LSBU (2004-2007) . He gained an MA for Media, Cultural Studies & Politics at Roehampton University and obtained a PhD at London South Bank University. In 1992 he began working as chief editor of local newspaper Fjala e Lire (Free Speech) and in 1997 as Television director, presenter and journalist in TV DARDAN. During that time he also worked in other areas of the Albanian media. Mr. Terziu was correspondent of the Democratic Party newspaper Rilindja Demokratike (RD, Democratic Rebirth) from 1994 until April 2001. Since 2001 he has worked as a freelance journalist in newspapers, and magazines in Albania and elsewhere in Europe. In 2000 he published a book called Don't Silence with the help of the publisher Sejko in Albania, and another volume of short stories, The Argadas Devil, was published by Silver. In 2006 he published Walking on Glass (Ecje ne Qelq) with Silver. He is author of the study A Different Critique: An Insight Into Albanian Poetry and Prose (2009 Publisher Arberia) . Also in 2009 the publishing house Globus R published his study in the English language, Media, Technology and Everyday Life and his book with short stories called The Mysterious Woman. He also wrote, directed and edited the Documentary film Trokamat ne Jeten e nje Pene featuring a veteran teacher. This documentary was produced with the help of studio Iraj in London. Other short films and documentaries written, directed, shot and edited by Fatmir Terziu include: Rivermusic (2004) , Windy Corner (2005) , Sentimental Journey (2006) , Footsteps in Life of a Writer (2007) . He has made other short documentaries that are selected by the BBC in their 60 second movies section, such as Pencil and Computer and One Egg. Fatmir Terziu is known in the UK for his essay, Parametric Narration in Norman Wisdom's Films, written in 2007. This essay later appeared in a collection of his essays with the same title. Fatmir Terziu has written a key study focusing on the use of myths by Albanian writer, Ismail Kadare, in his novels. The study began as Fatmir's PhD thesis and is now pending publication. Terziu's poetry are published in English language in The Galway Review, a monthly literary and Culturaly journal in the Republic of Ireland, in the Ann Arbor Review, The Galway Review online, Poetry Soup, Exiled Writters, International Poetry, and many more. His work is published in Academic Research International, International Journal of Academic Research; Sep2011, Vol.3 Issue 5, p.93. The author is referenced in Global Art Cinema: New Theories and Histories Albanian writer Faruk Myrtaj says: " Terziu's prose, does not resemble nor does it try to resemble the prose of other Albanian writers. His prose was intrigued me greatly. I like his writing. It is clear, precise and controlled."
Shpresa Gjergji, in her study " Poetry and Comparative Literature, Metaphorical Consequences in Fatmir Terziu's Poetry" says that " The importance of two elements, the definition of Poetry and Comparative Albanian Literature and the historical role it has with regard to the Human Sciences and the position of theory in this essentially literary and culturally discipline, are the focus of the huge debate across academics. The present essay accords briefly with the first element, providing metaphorical elements of focus rather than a finished portrait of one of the contemporary poets in Albanian literature, Fatmir Terziu; then, it takes up the significant moments of the theoretical debate in Poetry and Comparative Literature between Literary Studies on the one hand and Translation and Cultural Studies on the other. Specifically apparently takes my mind, where I want to officiate more is a kind of phrase that used a comparison, literary figures and in particular metaphor, of speech, expression, grammatical formation, seeing it in detail to Terziu?s poems as in Albanian and in English. Subject to which I will refer is the metaphorical process that features the poetry of Fatmir Terziu in the current approach Albanian into English. Through the comparative scholarly research extending from the 1990?s to through first decade of the 21st century, I describe the shifts of focus in literary studies that emerged in the 1990?s, and which resulted in the creation of a new, more politicised Cultural Studies and new configurations of main vs. subsidiary between Comparative Literature and the disciplines contiguous to it: Translation and Cultural studies. With these realignments, I argue, Comparative Literature has been faced with the challenge to restructure itself and its agenda. In this, I finally maintain, it gives 21st-century lessons to the other Human Sciences on the commensurability of angst, survival, and regeneration."

Fatmir Terziu's Works:

" Do not keep silent" 2000, Sejko
" The Devil of Argadas" ,2003, Silver
" Walking in Glass" 2005, Silver
" Krokamat" 2006, " Lulu"
" Integration" 2007, " Lulu"
" Mystery" 2008, " Globus R"
" Emotional" 2010 " Emotional"
" Eagles Voices" 2010 " Emal"
" The Rivers of Dreams" 2011 " Lulu"
" Tears of the Virgin" 2011 " Lulu"
" Confessions of Uncle Avram" 2012 " Filara"
" Gorge" 2012 " Lulu"
" Bunari" 2012 " Lulu"
" Kojrillat" 2013 " Lulu" .
" Airborne debt" 2013 " Lulu"
" Jungle of thoughts" (2010)
" Peja Blessings" (2014)
" The wind is not rented" (2015)
" Dry grass threads" (2016)
" After the Rain" (2016)
" The Fire Is Blue" (2016) etc.
The Mothers Tear
A tear

dripped

rolled.

A Globe

fell