Ferdinand L Quintos
Ferdinand L Quintos
(October 18,1942 / Bayambang, Pangasinan, Philippines)
Biography of Ferdinand L Quintos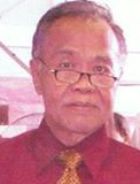 Numerology features in several important events in the life of Ferdinand L Quintos.

He was born in Bayambang, Pangasinan, Philippines,10 days after the 10th month after the declaration by the United States of war on Japan (December 8,1941) following the latter's attack on the American naval base on Pearl Harbor, Hawaii (December 7,1941) .
He is the 10th child of his father (who had six by his first marriage.

He holds a Bachelor Arts degree (major in political science, minor in English) .

He finished his studies of law at the Far Eastern University in Manila in 1971 and took the Bar examinations administered by the country's Supreme Court on four Sundays of September of that same year (one of them being the 10th day of said month) . He passed the examinations, took his oath of office, March 7,1972, nd signed the Roll of Attorneys on the 10th day of March 1972. His name appears on Book No. X, which is 10 in the Arabic numerals.

He got married on the 4th day of the 10th month of 1964.

He became a prosecutor in the Office of the City Fiscal (now Office of the City Prosecutor) of Davao City (a metropolis on Mindanao island, down south of the country) . He took his oath of office on July 10,1975. He resigned more than two years later and went into the practice of law with one of the bigger law firms then in that city.

He was co-author of a book that annotated the country's 1972 Constitution, which, however, went into obsolescence after a new fundamental law of the country was adopted in 1986.

While practicing law, he entered the journalism world as a columnist and crossword puzzle constructor of the first daily in Davao City and Mindanao. He later became editor-in-chief of that paper.

In January 1990, he joined the Philippine Commission on Human Rights (CHR) . He started as a legal officer in the CHR's Regional Office No. XI based in Davao City. The following year, he was designated to head the agency's Regional Office No. IX based in Zamboanga City. In 1993, he was sent regional director of the CHR's Regional Office No. IV based in San Pablo City, Laguna, in southern Luzon. He was a lecturer on human rights subjects in military/police training centers.
While heading CHR-IV he was sent as agency scholar to the Development Academy of the Philippines (DAP) where he finished Master in Public Management.

He retired from public office in 2006.

He is now back in his hometown of Bayambang, Pangasinan, where he established his law and notarial office.
Poetry has been interwoven into his life since he was of young age. On his vacant hours he would scribble poems which he keeps away after finishing them. He has written many but everything was lost during his many transfers of residence due to his professional work. While with CHR-IV he composed small poems on his cellphone, which he printed into a small volume entitled "Cellpoems."

He went into extensive poetry writing, in English, Tagalog, and the Pangasinan language, after his resignation. He creates special poems, like name poem and alphabet poems among others. To prevent losing them, he compiled many of his new poems in a book entitled "Indian Summer Poetry of Atty Ferdinand L Quintos, " but printed just enough copies for his file and select friends.

He contributes to many poetry sites on Facebook and to www.poemhunter.com.

He has been, since 2012, a member of the Board of Judges in the annual Pangasinan Literary Contest (in the Pangasinan language) , an institutionalized program of the Pangasinan provincial government.
Ecstasy
As I lay lonesome one night in my bed,
Somnus on my wearied eyes descended,
but when my eyelids were about to meet
toward slumber expectedly sweet,
loomed before me your so beautiful sight,
your fullness gleaming under the soft light,
your fingers moved as if they're magic wands
as you sweetly bade me to take your hands.