Firdaus Khan
Biography of Firdaus Khan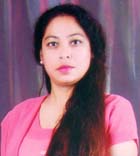 Main Lafzon ke Jazeere ki Shahzadi Hoon…
I am the Princess of the Island of the WORDS…

Journalist, writer and poetess.

Group Editor: Star News Agency, (News Agency & Portal) And Star Web Media (Portal) New Delhi.

Participated in many programmes of Doordarshan Kendra, Star News, E TV Urdu and All India Radio etc.
Script writing of documentaries, News based programmes, Regional Movies and Television Serials etc.

Literacy Percuits
Quite a sizeble number of Geet, Gazal, Nazm, Stories and Articles on social and current affairs have become pearl in the crown of literary periodicals.

Language Known
Hindi, Urdu, Punjabi, English and Arabic.

Firdaus Khan's Works:

Ganga Jamuni Sanskriti Ke Agardoot (based on sufism)

Other Publications
Published articles in many languages in reputed newspapers, magazines and books in India and others Countries.
Unknown Season Of Love
When
in the calm and lonely night
a breezing wind sings a song
of quite unknown season of love...
I do start changing
the pages of my past days
one by one...
and even more to the introversion
where in the island of memories or