Florynce Rae Kennedy
Biography of Florynce Rae Kennedy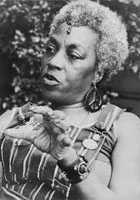 Florynce Rae "Flo" Kennedy (February 11, 1916 – December 22, 2000), was an American lawyer, activist, civil rights advocate, and feminist.

Kennedy was born in Kansas City to an African-American family. Her father Wiley Kennedy was a Pullman porter, and later had a taxi business. The second of her parents' five daughters, she had a happy childhood, full of support from her parents, despite experiencing poverty in the Depression and racism in her mostly white neighborhood. She later commented, "My parents gave us a fantastic sense of security and worth. By the time the bigots got around to telling us that we were nobody, we already knew we were somebody."

Kennedy graduated at the top of her class at Lincoln High School, after which she worked many jobs including owning a hat shop and operating elevators. After the death of her mother Zella in 1942, Kennedy left Kansas for New York City, moving to an apartment in Harlem with her sister Grayce. Of the move to New York she commented, "I really didn't come here to go to school, but the schools were here, so I went." In 1944 she began classes at Columbia University School of General Studies, majoring in pre-law and graduated in 1949. However, when she applied to law school, she was refused admission. In her autobiography Kennedy wrote, "The Associate Dean Willis Reese, told me I had been rejected not because I was a Black but because I was a woman. So I wrote him a letter saying that whatever the reason was, it felt the same to me, and some of my more cynical friends thought I had been discriminated against because I was Black." Kennedy met with the Dean and threatened to sue the school. They admitted her.