Fran Lebowitz
Biography of Fran Lebowitz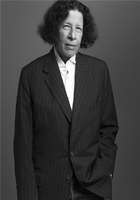 Frances Ann "Fran" Lebowitz (born October 27, 1950) is an American author. Lebowitz is known for her sardonic social commentary on American life as filtered through her New York sensibilities. Some reviewers have called her a modern-day Dorothy Parker.

Lebowitz was born and raised in Morristown, New Jersey, in an "observant" Jewish family.

After being expelled from high school and receiving a GED, Lebowitz worked many odd jobs before being hired by Andy Warhol as a columnist for Interview. This was followed by a stint at Mademoiselle. Her first book was a collection of essays titled Metropolitan Life, released in 1978, followed by Social Studies in 1981, both of which are collected (with a new introductory essay) in The Fran Lebowitz Reader.

She has been famous, in part, for Exterior Signs of Wealth, a long-overdue, unfinished novel, purportedly about rich people who want to be artists, and artists who want to be rich. She also made several appearances on Late Night with David Letterman. She has made recurring appearances as Judge Janice Goldberg on the television drama Law & Order.

Lebowitz, herself a heavy smoker, is known for her advocacy of smokers' rights.

In September 2007, Fran Lebowitz was named one of the year's most stylish women in Vanity Fair's 68th Annual International Best-Dressed List,[6] and she is known to sport tailored suits by the Savile Row tailor Anderson & Sheppard. On November 17, 2010, Fran made a return appearance on Late Show with David Letterman after a 16-year absence. She discussed her years-long writer's block, which she jokingly referred to as "writer's blockade". On November 22, 2010, HBO debuted Public Speaking, a documentary about Lebowitz by Martin Scorsese containing interviews and clips from speaking engagements.