Francis Scott Fitzgerald
Biography of Francis Scott Fitzgerald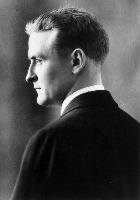 Francis Scott Key Fitzgerald (September 24, 1896 – December 21, 1940) was an American author of novels and short stories, whose works are the paradigm writings of the Jazz Age, a term he coined himself. He is widely regarded as one of the greatest American writers of the 20th century. Fitzgerald is considered a member of the "Lost Generation" of the 1920s. He finished four novels: This Side of Paradise, The Beautiful and Damned, Tender Is the Night, and his most famous, The Great Gatsby. A fifth, unfinished novel, The Love of the Last Tycoon, was published posthumously. Fitzgerald also wrote many short stories that treat themes of youth and promise along with despair and age.

The Great Gatsby has been the basis for numerous films of the same name, spanning nearly 90 years; 1926, 1949, 1974, 2000, and an upcoming 2013 adaption. In 1958 his life from 1937–1940 was dramatized in Beloved Infidel.
Marching Streets
Death slays the moon and the long dark deepens,
Hastens to the city, to the drear stone-heaps,
Films all eyes and whispers on the corners,
Whispers to the corners that the last soul sleeps.

Gay grow the streets now torched by yellow lamplight,
March all directions with a long sure tread.
East, west they wander through the blinded city,
Rattle on the windows like the wan-faced dead.