Franklin J. Warren
Biography of Franklin J. Warren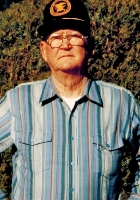 Franklin J. Warren was born on Feb. 2, 1926 in the living quarters of a Louisiana & Arkansas Railway Depot the sit was Packton, La which no longer exists but was about ten miles South of Winnfield, La. He joined the Navy in Dec. 1943 at seventeen years of age and Retired from the Navy in Mar. 1970 as a Chief Aviation Electronics Technician and came to Prescott, AZ and made it home! Wife died Nov 14, 1990 and he has been alone since!
Hobbies
Amateur Radio,Electronics,Painting (Acrylic),
Drawing,Calligraphy,Ornate Pictorial Calligraphy,Handguns & Shooting,Wood Carving,Wood Burning Art,Silversmith,
Making Stamps for use in Silver designing,
Enameling on Copper & Silver,Lapidary,
Rock Collecting,Fossil Collecting,Genealogy,
Welded Metal Sculpture,Wood Sculpture,
Metal Detector Prospecting,Writing Poetry,
Writing,Wood Work,Wood Turning,Ceramics
Wood Collages Framed,Camcorder tapes of trips prospecting,Botany, Photography (Pictures of flowers) etc.,Computers (Mac's)
Surfing Internet for info,Avid Reader Until eyes got bad, mostly science,Handguns,Art,
Like Classical Music and Instrumentals
Observing Animals & Birds
As of this writing June 19, 2015 I have been retired for 45 years and have had the time to pursue whatever I wished regarding hobbies. However now too decrepit to pursue any of them except the computer and music.
During my Navy career I flew in TBF Avenger Torpedo Bomber as Radioman-Gunner and later as Radar Operator when they made Radar planes of them in the TBM version! Later flew in the P2V Patrol Aircraft while in Okinawa, Japan and Formosa!
Life Itinerary of Franklin J. Warren
Dec. 1943 enlisted in the Navy and went to Boot Camp in San Diego, Ca.,: Feb. 1944 to Aviation Radio school in Millington, Tenn.,: July 44 to gunnery school in Miami, Fla.,: Aug. 44, to Flight training school in Fort Lauderdale, Fla.,: Jan. 45 to Squadron VT-98 Los Alamitos,Ca.: then to Oxnard,Ca.,: to Thermal, Ca.,: to Modesto, Ca.,: to Alameda, Ca.,: to Treasure Island, Ca.,: and in March 46 to Shoemaker Ca.,: in Aug. 46 North Island, Ca.,: then Feb. 47 to Ream Field, San Yisidro, Ca.: and in Oct 47 left on "Around The World Cruise" aboard the USS Valley Forge CV-45 an aircraft carrier,: we stopped at Hawaii,: crossed the equator,: then to Sydney, Australia,: Hong Kong, B.C.C.,: Yellow Sea Maneuvers,: Tsingtao, China,: Singapore, China,: Trincomale, Ceylon, India(now Shri Lanka) via Indian Ocean,: Ras At Tannura,: Saudi Arabia, on the Persian Gulf,: through the Red Sea and Suez canal by Port Said,: Gibraltar,: La Linea,: Algiceras, Spain,: Tangiers in Spanish Morocco,: then Bergen, Norway,: Portsmouth, England,: London,: Brighton: and then to New York City, N.Y.,: Cristobal, Panama,: Balboa, Panama,: and back to San Diego, Ca. in June 1948,: then to Ream Field, at San Ysidro, Ca.: April 51 N.A.S. Point Mugu guided missile center Oxnard, Ca.,: Terminal Island, Ca.,Oct. 1954: then to Naval Air Technical Training School, Millington, Tenn.,: to N.A.S. Whidbey Island, Wa. VP-17 Patrol Squadron,: To Atsugi, Japan then Dec. 55 N.A.S. Naha Okinawa, Japan,: to Formosa, Tawain,: then April 56 to N.A.T.T.C. Millington, Tenn.: then to Westinghouse Factory School in Glenburnie, Ma.: and then in Feb. 1957 to Cecil Field-VF-102 at Jacksonville, Fla.: to Key West, Fla.: and in Sep. 58 aboard the U.S.S. Forrestal CVA-59 an aircraft carrier: and then to a Mediterranean cruise beginning from Norfolk, Va. Sep. 58,: stopped at Gibraltar,: August Bay,: Sicily,: Naples, Italy,: Cannes, France,: Marseilles, France,: Barcelona, Spain,: back to Naples, Italy,: Palm De Malloca, Spain,: Leghorn, Italy,: back to Naples, Italy,: Pollensa Bay,: Malloca, Spain: and back in Norfolk, Va. in March 1959,: Cecil Field, Fla., Apr. 59,: then to Chase Field in Beeville,Texas : July 1961, Career Counselors School in Corpus Christi, Texas: and back to Chase Field,: went to Hawaii for three years Aug. 62 to Aug. 65,: then to Recruiters School in San Diego, Ca.: and then in Nov. 65 in charge of Recruiting Station Monroe, La.: in Feb. 1967 to Public Affairs School in Washington, D.C.,: then to Little Rock, Ark. in charge of Public Affairs Office until Transferred to Fleet Reserve Mar. 1970: and came to Prescott, Arizona: then in Nov. 1973 received my 30 year retirement certificate. This was the end of my Naval Career and back to civilian life. The wife and I did some kicking around for 2 1/2 years with a truck and camper,: college for 6 years full time, some 145 semester hours and then just being retired, wife died Nov. 14, 1990. Have acquired 30 hobbies over time and still do some. Been Chief cook and dishwasher since Nov. 1990!
Love
A beautiful love fills my heart,
Wonderful love,
And a wonderful smile, touched my heart,
Smile at me always,
Touch my heart always.