Fred D'Aguiar
Biography of Fred D'Aguiar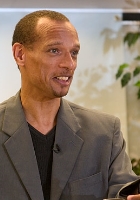 Fred D'Aguiar (born 2 February 1960) is a British-Guyanese poet, novelist and playwright. He is currently Professor of English at Virginia Tech.
Fred D'Aguiar was born in London in 1960 to Guyanese parents, Malcolm Frederick D'Aguiar and Kathleen Agatha Messiah. In 1962 he was taken to Guyana where he lived with his grandmother until 1972 when he returned, at the age of twelve, to England. D'Aguiar trained as a psychiatric nurse before reading African and Caribbean Studies at the University of Kent, Canterbury, graduating in 1985. On graduating he applied for a PhD on the Guyanese author Wilson Harris at the University of Warwick, but - after winning two writers-in-residency positions, at Birmingham University and the University of Cambridge (where he was the Judith E. Wilson Fellow from 1989 to 1990) - his PhD studies "recededed from [his] mind" and he began to focus all of his energies on creative writing.
In 1994, D'Aguiar moved to the United States to take up a Visiting Writer position at Amherst College, Amherst, Massachusetts (1992–94). Since then, he has taught at Bates College, Lewiston, Maine (Assistant Professor, 1994–95) and the University of Miami where he held the position of Professor of English and Creative Writing. In 2003 he took up the position of Professor of English and Co-Director of the Master of Fine Arts in Creative Writing at Virginia Tech.
Complainer
In 1979 or '80, Lynford French
played Moving Target as we cried,
"The revolution will not be televised."
Yesterday, Gil Scott Heron died.

The man talked and made you nod
along in agreement, for what he just
said had just been born, and could
never be taken away, by the most