Frederick William (FW) Harvey
Biography of Frederick William (FW) Harvey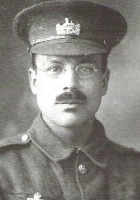 Frederick William Harvey was an English poet, known for poems composed in prisoner-of-war camps at Krefeld and Gütersloh that were sent back to England, during World War I.

He was born in Hartpury, Gloucestershire. He was educated at the King's School, Gloucester, where he formed a close friendship with Ivor Gurney, and then at Rossall School. Gurney and Herbert Howells, another local composer, would set a number of his poems to music.

He started on a legal career, which would always be somewhat tentative. He became a Roman Catholic convert in 1914, and shortly after joined the Gloucestershire Regiment as a private soldier, as World War I broke out.

Serving in France, he was awarded the D. C. M. in 1915, and returned to England for officer training. He was captured behind the German lines in 1916, where he began to write more seriously.

He returned home in 1919, and married in 1921. He did not enjoy any sustained success as a writer, and never fully settled.

Frederick William (FW) Harvey's Works:

A Gloucestershire Lad At Home and Abroad (1916)
Gloucestershire Friends (1917)
Ducks (1919)
Comrades in Captivity: a record of life in seven German prison camps (1920) (war memoirs)
Farewell (1921)
September and Other Poems (1925)
In Pillowell Woods (1926)
Forest Offering
Gloucestershire (1947)
This page is based on the copyrighted Wikipedia Frederick William (FW) Harvey; it is used under the Creative Commons Attribution-ShareAlike 3.0 Unported License. You may redistribute it, verbatim or modified, providing that you comply with the terms of the CC-BY-SA.
Warning
A man there was, a gentle soul,
Of mild enquiring mind,
Who came into this neighbourhood
Its wonders for to find [ … ]

They told him who had put the lid
On Lydney; who the ale
Misspelt in Aylburton. And he
Delighted in the tale.