Fredrick McDonald
Fredrick McDonald
(Seneca Falls, N.Y. now in Genoa N.Y.)
Biography of Fredrick McDonald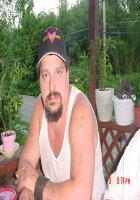 i have a son named christopher.m. mcdonald he is now 14 years old.he is the most important thing to me in this world 1/14/06

Fredrick McDonald's Works:

I've just submitted all my stories and poems to publish America.. Hopefully I'll get published as a writer.. I have gotten five of my poems published through contests such as poetry.com, famous poets.com, creativecommunication.com and a couple more somewere I've lost track..
A Cold Night
As I walk into the cold night air
I will walk on forever never shedding a tear
I feel the cold mountain air
I shall show no fear
While my end grows near
Walking toward the light I see
A vision, a sight,
The most beautiful angel taking flight
Or is she a ghost?