Gabrielle Martin
Biography of Gabrielle Martin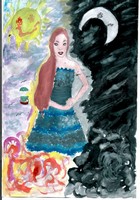 Born on August 28th,1994, Gabrielle Martin is a seventeen year old aspiring poet and Creative writing Major. Her poetic musings detail the unique and somewhat strange encounters she has with life and the human condition.
Symmetry
I've a promise of a future
laced with elongated vowels
and sprinkled with white flurries
crystallized in late December air.

No two the same, they say;
symmetry matched but not
repeated.