Gabrielle Martin
Biography of Gabrielle Martin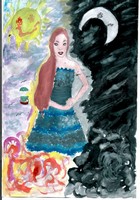 Born on August 28th,1994, Gabrielle Martin is a seventeen year old aspiring poet and Creative writing Major. Her poetic musings detail the unique and somewhat strange encounters she has with life and the human condition.
A Mid-Morning Wondering.
If you were a lion,
would the sight of a gazelle carcass
delight or disgust you?

If I were the gazelle?