Gajanan Digambar Madgulkar
Biography of Gajanan Digambar Madgulkar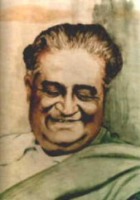 Gajānan Digambar Mādgulkar was a prominent Marāthi poet, lyricist, writer and actor from India. He is popularly known in his home state of Maharashtra by just his initials as Ga Di Ma (गदिमा).It can be rightly stated that his contribution to Marathi culture was rich in its content as well as high in its quality.

Career

Madgulkar wrote poetry, short stories, novels, autobiographies and scripts, dialogs and lyrics for Marathi as well as Hindi movies. His poems are well known for being adapted to a wide range of musical forms such as Sugam-Sangeet (light music), Bhāwa-Geet (emotional songs), Bhakti-Geet (devotional songs), and Lāwani (a genre of folk songs in Maharashtra). Madgulkar entered the world of movies in 1938 at Kolhāpur. He contributed to 157 Marathi and 23 Hindi movies.

He had knowledge of 10 languages including Marathi, Hindi, English, Urdu, Bengali, Gujarati, Punjabi, Kannada, Tamil & Telugu.

He was the elder brother of the famous Marathi writer -Vyankatesh Madgulkar,famous for poetry & novels.

Geet Ramayan

He wrote a much-acclaimed work in Marathi titled Geet Rāmāyan (lit. Ramayana in Songs). It consisted of 56 poems, and its theme was the story in the Sanskrit epic, Rāmāyan. Sudhir Phadke had composed the music for Geet Ramayan and then given its many renditions to the public. After this masterpiece, he was referred to as "Adhunik Valmiki" (Modern Valmiki).

Awards and Recognitions

Sangeet Natak Akademi Award in 1957
Honorary title of "Modern Valmiki" for having composed Geet Ramayan

Gajanan Digambar Madgulkar's Works:

Epics
Geet Ramayan.
Geet Gopal.
Tulsi Ramayan.

Short Story Collections
Thorali Pati.
Chandani Udabatti.
Tupacha Nandadeep.
Bandavarachya Bhabhali.
Bolaka Shankha.
Mantaralele Divas.
Laplela Ogha.
Sone Ani Mati.
Khrishnachi Karangali.
Bhatache Phul.
Teel Ani Tandul.

Novels
Aakashachi Phale.
Ubhe Dhage Aadave Dhage.

Autobiography
Vatevarchya Savlya.

Poem Collection
Jogia.
Puriya.

Lyrics Collections
Chaitraban.
Vaishakhi.
Geet Saubhadra.
Sugandhi Veena.
Kavya Katha.
Shashanka manjiri.

Other Collections
Char Sangeetika.
Teen Chitrakatha.
This page is based on the copyrighted Wikipedia Gajanan Digambar Madgulkar; it is used under the Creative Commons Attribution-ShareAlike 3.0 Unported License. You may redistribute it, verbatim or modified, providing that you comply with the terms of the CC-BY-SA.