Garnet Robbie
Garnet Robbie
(Swift Current, Saskatchewan, Canada)
Biography of Garnet Robbie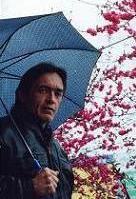 I was born on the Canadian prairies, in Swift Current, Saskatchewan, or Speedy Creek as it is called. Having lived many places in Canada, I decided to try overseas for awhile and for the past eight years I have been in China. My writing mostly hangs around waiting for something better, so I spend too much time looking through other people's stuff.

Garnet Robbie's Works:

Rumour has it that my poem 'Siddhartha' was published somewhere a long time ago, but I never found out where.
This Pen
This pen
has a universe
trapped within it
There are suns and moons
Planets filled with life
And barren rocks
Floating in space

It wants to write
To the music of the spheres
But the author
Is a buffoon