Garrett Hongo
Biography of Garrett Hongo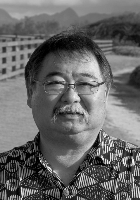 Garrett Hongo (born 1951, Volcano, Hawai'i) is a Yonsei, fourth-generation Japanese American academic and poet. The work of this Pulitzer-nominated writer draws on Japanese American history and own experiences.
Hongo has attended Pomona College and the University of Michigan, and received a Master of Fine Arts degree in English from the University of California at Irvine.
Hongo has been awarded fellowships from the Guggenheim Foundation, the National Endowment for the Arts, and the Rockefeller Foundation.
I Got Heaven...
I Got Heaven...
I swear that, in Gardena, on a moonlit suburban street,
There are souls that twirl like kites lashed to the wrists of the living
And spirits who tumble in a solemn limbo between 164th
And the long river of stars to Amida's Paradise in the West.
As though I belonged, I've come from my life of papers and exile
To walk among these penitents at the Festival of the Dead,
The booths full of sellers hawking rice cakes and candied plums,
All around us the rhythmic chant of min'yo