Gary Soto
Biography of Gary Soto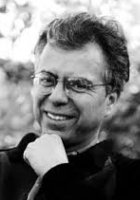 Gary Anthony Soto (born April 12, 1952) is an American author and poet.
Soto was born to Mexican-American parents Manuel (1910–1957) and Angie Soto (1924-). In his youth, he worked in the fields of the San Joaquin Valley. Soto's father died in 1957, when he was five years old. As his family had to struggle to find work, he had little time or encouragement in his studies, hence, he was not a good student. Soto notes that in spite of his early academic record, while at high school he found an interest in poetry through writers such as Ernest Hemingway, John Steinbeck, Jules Verne, Robert Frost and Thornton Wilder.
Soto attended Fresno City College and California State University, Fresno, where he earned his B.A. degree in English in 1974, studying with poet Philip Levine. He did graduate work in poetry writing at the University of California, Irvine, where he was the first Mexican-American to earn a M.F.A. in 1976. He states that he wanted to become a writer in college after discovering the novelist Gabriel García Márquez and the contemporary poets Edward Field, W. S. Merwin, Charles Simic, James Wright and Pablo Neruda, whom he calls "the master of them all.
Soto taught at University of California, Berkeley and at University of California, Riverside, where he was a Distinguished Professor.
Soto was a 'Young People's Ambassador' for the United Farm Workers of America, introducing young people to the organization's work and goals. Soto became the sponsor for the Pattonville High School Spanish National Honor Society in 2009.
Soto lives in northern California, dividing his time between Berkeley and Fresno, but is no longer teaching.
How Things Work
Today it's going to cost us twenty dollars
To live. Five for a softball. Four for a book,
A handful of ones for coffee and two sweet rolls,
Bus fare, rosin for your mother's violin.
We're completing our task. The tip I left
For the waitress filters down
Like rain, wetting the new roots of a child
Perhaps, a belligerent cat that won't let go
Of a balled sock until there's chicken to eat.