Geet Chaturvedi
Biography of Geet Chaturvedi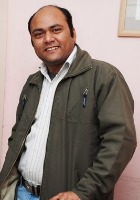 Geet Chaturvedi (Hindi: गीत चतुर्वेदी) is a well-known Hindi poet, short story author and journalist. He was awarded the prestigious Bharat Bhooshan Award for poetry in 2007.

Biography

Geet was born on 27 November 1977 in Mumbai, Maharashtra. He lives in Bhopal, India. He is one of the few writers of his generation who is skillful in both verse and prose- both as a fiction writer and critic. He has been named one of the 'Ten Best Writers' of India by esteemed English daily The Indian Express.

Geet Chaturvedi is the author of five books including two translations of Pablo Neruda and Charlie Chaplin. He published three books in 2010, a book of poetry Aalaap mein girah, and two collections of stories Savant Auntie ki Larkiyan and Pink Slip Daddy. His stories are quite longer in their length and he insists to call them novella, as he says in an interview, there is no synonym for longer short stories in Hindi and novella is the best word to name this form of writing.

His stories Savant Auntie ki Larkiyan, Sahib Hai Rangrez and Gomootra are widely talked about. His novella Pink Slip Daddy (2009) was considered as one of the best works of fiction in recent year's Hindi writing by noted literary periodical Kathadesh.

Once wanted to be a rockstar, Geet Chaturvedi is deeply influenced by world literature, world cinema and western classical music. He is a Post-Modern writer and his major themes are alienation, homogenization, betrayal in love and corporate life, emotions of economic under-development and life in the provincial landscapes of Mumbai. His hometown Mumbai, often, comes as a character rather than a city, like the novels of Orhan Pamuk.

His prose and poetry are distinct combination of eastern and western world. It makes him to be considered as one of the few truly urban writers of Hindi. His major influences are Veda Vyasa, Shankaracharya, Homer, Kalidasa, Dante along with the post-modern giants of twentieth century like Jorge Luis Borges, Gabriel Garcia Marquez and Orhan Pamuk.

In an interview, Geet says, "(After reading Borges and Shankaracharya) I find that a writer lives in the 25th hour of the watch. This is not independent of the 24 hours (of a day). It's (about) residing in the absent. When you do so, you participate in all other presences of the cosmos."

Professional Life

He employs multi-layered narratives into his fiction and looks at the cinema to get his creative fodders. He uses cinematic techniques of master filmmakers in his fiction. Krzysztof Kieslowski, for instance, tell him how a frame can swiftly carry a couple of overlapping or independent tales, the secondary characters emerging as primary ones in the next. While he can appreciate Finnish filmmaker Aki Kaurismaki's minimalism, his fiction weaves a complex structure of incidents and characters.

His long poem Ubhaychar (The amphibian), published in 2010, is also taken as one of his major achievements.

Awards

Chaturvedi was awarded the Bharat Bhushan Agrawal Award in 2007 for his poem Mother India appeared in the October 2006 issue of journal Vagarth. His poetry has been translated into more than eight languages.

Many senior writers and literary journals consider him one of the best writers in India. Legendary critic Namvar Singh has named him as one of the best poets and novelists of the first decade of the 21st century. While internationally acclaimed poet-critic Ashok Vajpai, in an interview, says, "Geet Chaturvedi has shown a truly avant-garde spirit in his fiction and poetry. He brings his vast reading, unusual for his generation, to bear effortlessly on his writing, which is innovative in language and style. He has an evolving vision, which is not bogged down by cliches or clutches of current ideological stances."
This page is based on the copyrighted Wikipedia Geet Chaturvedi; it is used under the Creative Commons Attribution-ShareAlike 3.0 Unported License. You may redistribute it, verbatim or modified, providing that you comply with the terms of the CC-BY-SA.