Geetha Jayakumar
Geetha Jayakumar
[Sumi Nair] (Kerala Palakkad)
Biography of Geetha Jayakumar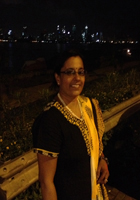 ©ALL RIGHTS RESERVED BY GEETHA JAYAKUMAR. All poems are Copyrighted.

My poetic journey began from this site poemhunter.com
It's you who added many colours to my thoughts
I remember each and everyone from this site
Who brought cheers to my life.

Thank you all from my heart!

Geetha Jayakumar's Works:

Poetic Pebbles
New Poems
Panoramic Frame!
Time that stride where panorama abides
Viewed by different eyes yet the same things coincide.
Flawless tears praised the virtues of rain.
Clouds of thunderbolt shook the tree of pellets.
Summers steam had the whiff of hot spells.
Winter interlaced the dribbles into snow blanket.
Ripened days cropped up with distasteful appetite.
Spring just sprang up waking all desires.
Everything hangs in where vitality lay nested.