Geoffrey Donald Page
Biography of Geoffrey Donald Page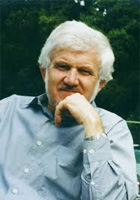 Geoff Page, born 7 July 1940 in Grafton, Australia, is an Australian poet who has published eighteen collections of poetry as well as two novels, four verse novels and several other works including anthologies, translations and a biography of the jazz musician, Bernie McGann.

He retired at the end of 2001 from being in charge of the English Department at Narrabundah College in the ACT, a position he had held since 1974.



He has won several awards, including the ACT Poetry Award, the Grace Leven Prize, the Christopher Brennan Award, the Queensland Premier's Prize for Poetry and the 2001 Patrick White Literary Award. Selections from his work have been translated into Chinese, Hindi, German, Serbian, Slovenian and Greek. He has also read his work and talked on Australian poetry in Switzerland, Germany, Ireland, Norway, Sweden, Great Britain, Italy, Spain, Serbia, Slovenia, Slovakia, Czech Republic, Austria, Hungary, India, Singapore, China, Korea, the United States and New Zealand.
Geoffrey Donald Page Poems
Dancing with the Flag
A (more-or-less-well-meaning) giant
is stumbling round the world.
To signify esprit de corps
he wears his flag unfurled.

He lumbers here; he lumbers there;
he wishes he'd stayed put.
The scorpions he's kicked by chance
are nipping at his foot.