George Auriol
Biography of George Auriol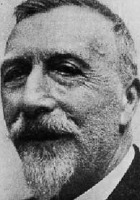 George Auriol, born Jean-Georges Huyot (26 April 1863, Beauvais (Oise) – February 1938, Paris), was a French poet, songwriter, graphic designer, type designer, and Art Nouveau artist. He worked in many media and created illustrations for the covers of magazines, books, and sheet music, as well as other types of work such as monograms and trademarks.

After he arrived in Paris in 1883, Auriol was introduced to typography and book design by Eugène Grasset and became particularly interested in the revival of historical type styles. He created his signature typeface Auriol inspired by the Art Nouveau movement for the Deberny & Peignot foundry, which was used in the work of Francis Thibaudeau and other publishers of the period. Auriol was a member of French bohemian culture, a denizen of the Chat Noir ("Black Cat Café") and long a friend of Erik Satie.

Auriol illustrated playbills for André Antoine's Théâtre Libre and for the Théâtre du Chat Noir ("Black Cat Theater") in the Montmartre district of Paris, one of which became a popular poster.
This page is based on the copyrighted Wikipedia George Auriol; it is used under the Creative Commons Attribution-ShareAlike 3.0 Unported License. You may redistribute it, verbatim or modified, providing that you comply with the terms of the CC-BY-SA.