George Barker
George Barker
(26 February 1913 – 27 October 1991 / Essex, England)
Biography of George Barker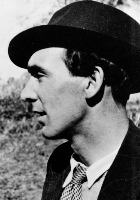 George Granville Barker was an English poet and author.

Life and Work

Barker was born in Loughton, near Epping Forest in Essex, England, elder brother of Kit Barker [painter] George Barker was raised by his Irish mother and English father in Battersea, London. He was educated at an L.C.C. school and at Regent Street Polytechnic. Having left school at an early age he pursued several odd jobs before settling on a career in writing. Early volumes of note by Barker include Thirty Preliminary Poems (1933), Poems (1935) and Calamiterror (1937), which was inspired by the Spanish Civil War.

In his early twenties, Barker had already been published by T. S. Eliot at Faber and Faber, who also helped him to gain appointment as Professor of English Literature in 1939 at Tohoku University (Sendai, Miyagi, Japan). He left there in 1940 due to the hostilities, but wrote Pacific Sonnets during his tenure.

He then travelled to the United States where he began his longtime liaison with writer Elizabeth Smart, by whom he had four of his fifteen children. Barker also had three children by his first wife, Jessica. He returned to England in 1943. From the late 1960s until his death, he lived in Itteringham, Norfolk, with his wife Elspeth Barker, the novelist. In 1969, he published the poem At Thurgarton Church, the village of Thurgarton being a few miles from Itteringham.

Barker's 1950 novel, The Dead Seagull, described his affair with Smart, whose 1945 novel By Grand Central Station I Sat Down and Wept was also about the affair. His Collected poems were edited by Robert Fraser and published in 1987 by Faber and Faber.

In describing the difficulties in writing his biography, Barker was quoted as saying, "I've stirred the facts around too much, ... It simply can't be done". Yet, Robert Fraser did just that with; The Chameleon Poet: A Life of George Barker.

George Barker's Works:

Thirty Preliminary Poems (1933)
Poems (1935)
Calamiterror (1937)
The Dead Seagull (1950)
Collected Poems (1987)
This page is based on the copyrighted Wikipedia George Barker; it is used under the Creative Commons Attribution-ShareAlike 3.0 Unported License. You may redistribute it, verbatim or modified, providing that you comply with the terms of the CC-BY-SA.
To My Mother
Most near, most dear, most loved and most far,
Under the window where I often found her
Sitting as huge as Asia, seismic with laughter,
Gin and chicken helpless in her Irish hand,
Irresistible as Rabelais, but most tender for
The lame dogs and hurt birds that surround her -
She is a procession no one can follow after
But be like a little dog following a brass band.