George Moses Horton
Biography of George Moses Horton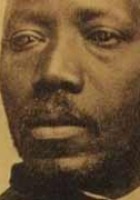 George Moses Horton was an African-American poet.

Biography

He was born into slavery on William Horton's plantation in Northampton County, North Carolina. As a very young child, he and several family members were moved to a tobacco farm in rural Chatham County, when his owner relocated. Horton composed poems in his mind through his teen years. He was allowed by his master to visit the nearby University of North Carolina at Chapel Hill, where he recited poems to students who eagerly wrote them down and paid him for his compositions. His fame spread, and a collection of poems was published under the title The Hope of Liberty (1829). Horton was the first black southern author and the first African American poet to produce a volume in more than half a century.

Two more collections of Horton's poetry include Poetical Works (1845) and Naked Genius (1865). Horton began calling himself "the Colored Bard of North Carolina." Many of his works were vivid and powerful attacks on slavery.

After the American Civil War, Horton moved to Philadelphia, Pennsylvania, where he lived until his death. Once in the north, he never published another verse.

During the summer of 2006, UNC Chapel Hill renamed a newly built dorm, previously known as Hinton James North, to George Moses Horton dormitory.

George Moses Horton's Works:

The Hope of Liberty (1829)
Poetical Works (1845)
Naked Genius (1865)
This page is based on the copyrighted Wikipedia George Moses Horton; it is used under the Creative Commons Attribution-ShareAlike 3.0 Unported License. You may redistribute it, verbatim or modified, providing that you comply with the terms of the CC-BY-SA.
Clay's Defeat
'Tis the hope of the noble defeated;
The aim of the marksman is vain;
The wish of destruction completed,
The soldier eternally slain.

When winter succeeds to the summer,
The bird is too chilly to sing;
No music is play'd for the drummer,
No carol is heard on the wing.