Gerald Griffin
Biography of Gerald Griffin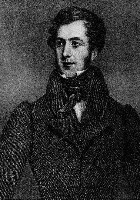 Gerald Griffin was an Irish novelist, poet and playwright.

He was born in Limerick, Ireland, the son of a brewer. He went to London in 1823 and became a reporter for one of the daily papers, and later turned to writing fiction. Once of his most famous works is The Collegians written about the murder of the Colleen Bawn in 1820. In 1838 he burned all of his unpublished manuscripts and joined the Catholic religious order "Congregation of Christian Brothers" in Cork, and died from typhus fever at their monastery.

Gerald Griffin has a street named after him in Limerick City and another in Cork City, Ireland. Loughill/Ballyhahill GAA club in west Limerick play under the name of Gerald Griffins.
This page is based on the copyrighted Wikipedia Gerald Griffin; it is used under the Creative Commons Attribution-ShareAlike 3.0 Unported License. You may redistribute it, verbatim or modified, providing that you comply with the terms of the CC-BY-SA.
Devotion. -- A Vision
Methought I roved on shining walks,
'Mid odorous groves and wreathed bowers.
Where, trembling on their tender stalks,
Fresh op'ning bloom'd the early flowers;
Thick hung the fruit on ev'ry bough,
In ripe profusion clust'ring mellow,
While o'er the peak'd horizon's brow,
The evening ray fell slant and yellow.