Gerald Stern
Biography of Gerald Stern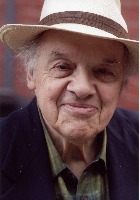 Gerald Stern (born February 22, 1925) is an American poet.

Born in Pittsburgh, Pennsylvania, U.S. to Harry and Ida Barach Stern (Polish and Ukrainian immigrants), he was educated in the Pittsburgh Public Schools. Stern studied at the University of Pittsburgh (B.A., 1947) and Columbia University (M.A., in 1949). After receiving his undergraduate degree in English, Stern also served the United States Army Air Corps.

He did post-graduate study at the University of Paris in 1949-50 and spent his twenties living in and traveling between New York City and Europe. At that time he starts to write and publish poetry.

His work became widely recognized after the 1977 publication of "Lucky Life," which was that year's Lamont Poetry Selection, and of a series of essays on writing poetry in American Poetry Review. He has subsequently been given many prestigious awards for his writing, including the 1996 Ruth Lilly Poetry Prize, the 1998 National Book Award for This Time: New and Selected Poems, and the 2012 Library of Congress Rebekah Johnson Bobbitt National Award for Early Collected Poems: 1965-1992. He was Poet Laureate of New Jersey from 2000 to 2002, and received the Wallace Stevens Award from the Academy of American Poets in 2005. Since 2006, Stern has been a Chancellor of the Academy of American Poets.

Stern has taught at Temple University, Indiana University of Pennsylvania, Raritan Valley Community College, and Iowa Writers' Workshop.During the mid-1970s, Stern was a literature consultant for both New Jersey and Pennsylvania Council of the Arts as well as a coordinator for Pennsylvania Poetry in schools. Stern is former faculty member and co-founder of New England College's Master of Fine Arts Program in Poetry. Stern is currently serving as distinguished poet-in-residence at Drew University's low-residency MFA Program in Poetry beginning January 2009, with Jean Valentine, the other distinguished poet-in-residence for the program.

He married Patricia Miller in 1952 (divorced); they have two children: Rachael, a nutrition therapist living in Alabama; and David, an architect living in Massachusetts. He also has 4 grandchildren, Rebecca, Dylan, Julia, and Alana. His companion is poet Anne Marie Macari, and he lives in Lambertville, New Jersey.
The Dancing
In all these rotten shops, in all this broken furniture
and wrinkled ties and baseball trophies and coffee pots
I have never seen a post-war Philco
with the automatic eye
nor heard Ravel's "Bolero" the way I did
in 1945 in that tiny living room
on Beechwood Boulevard, nor danced as I did
then, my knives all flashing, my hair all streaming,
my mother red with laughter, my father cupping